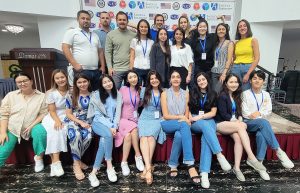 This summer, 90 FLEX, YES, YES Abroad, and YEAR alumni from around the world engaged in an intensive leadership experience inspired by the Iacocca Institute's signature Global Village program. Designed exclusively for alumni of these USG exchange programs, Global Village on the Move combined worldwide networking and cross-cultural engagement with leadership development and collaborative team projects.
From May 9 to June 24, participants began their leadership journey in a unique virtual community to work in cross-cultural, geographically diverse teams on a seven-week consulting project with an international client. They developed personal leadership action plans through a CliftonStrengths leadership assessment and coaching workshops.
After the virtual component, eligible participants then traveled to either North Macedonia or Kyrgyzstan. During each in-person workshop, participants attended sessions led by facilitators from the Iacocca Institute on project design and pitching one's ideas, but the core of the workshop was the group projects. In project groups, participants worked on a UN Sustainable Development Goal project design challenge. Each group developed and pitched an innovative solution to a social challenge facing their communities and/or the world and received feedback from facilitators, alumni guides, and their peers.
The first of the two in-person programs took place in Bishkek, Kyrgyzstan from August 23 to 29 for 43 YES, YES Abroad, FLEX, and YEAR alumni. At the opening session, the group was welcomed by U.S. Embassy Information Officer Anya Erokhina. Anya spoke about the value of exchange and her own experiences studying abroad, noting that she wished she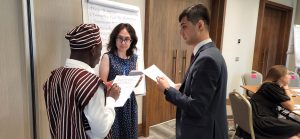 had the kind of alumni network and opportunities that are available to USG alumni. At a networking lunch, participants met U.S. Embassy Cultural Affairs Officer Veronica Elkins along with American Councils staff and FLEX alumni from Kyrgyzstan. Participants also had the opportunity to engage with local Kyrgyz culture firsthand through a site visit to the State History Museum and a city tour organized by FLEX alumni from Kyrgyzstan.
The second in-person program took place in Skopje, North Macedonia from September 1 to 7 for 35 YES and FLEX alumni. At a networking lunch followed by project presentations and the closing ceremony, participants met with and listened to remarks given by U.S. Embassy Assistant Public Affairs Officer Jaewon Oh and Exchanges & Alumni Coordinator Gazmend Ilazi. Embassy staff commended participants on their dedication to these programs throughtheir alumni activities and encouraged them to stay connected and open to opportunities for collaboration with their fellow alumni and the U.S. Embassies in their home countries. Participants also had the opportunity to engage with local Macedonian culture through a site visit to Skopje's Old Bazaar, where four different craftsmen demonstrated their work and talked to the participants about their shops and running a small business. Participants also took part in a city tour organized by YES alumni from North Macedonia.