By Marke Mark '17 (Tartu, Estonia / Cass City, MI) 
On January 22, City Representative of Tartu, Sirli Sildever '20 (Tartu, Estonia / Hartselle, AL), organized a volunteering event at Tartu Cat Protection (TCP). A protection service and non-profit organization, Tartu Cat Protection works to find forever homes for homeless cats, to return missing and found cats, to treat injured ones, and to develop the general cat-keeping culture in Estonia.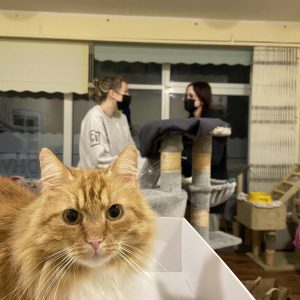 Having donated to this organization previously, Sirli decided to visit again and gathered two other alumni – Marke Mark '17 and Hanna Belinska '20 (Tartu, Estonia / Wake Forest, NC) to go along with her. The alumni met with one of the TCP volunteers who talked about how the organization works. Alumni then cleaned all the rooms where the cats stayed. Each room had a different purpose, and there were three rooms that needed to be cleaned: the injured cats' room, the found cats' room, and the playroom.  
In the injured cats' room were all the medical supplies needed, along with a refrigerator where the wet cat food is held. The found cats' room had a lot of crates and blankets, as well as plenty of dry food, most of which had been donated. The playroom – the most cheerful room – had many cat towers, mats to lie on, places to hide, and an abundance of toys. 
Cleaning the rooms involved changing out food, water, and cat litter, as well as wiping down all the countertops and mopping the floors. The most important step was to disinfect used brooms and mops. Later, alumni played with the cats, although many of the cats were shy.  
Lastly, the volunteers helped an injured elderly cat with its walking exercises. Hanna put kibble further ahead to motivate the cat to walk towards it and use all its legs. This activity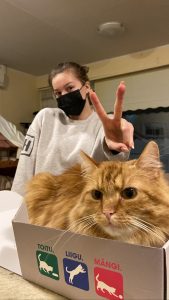 led Hanna to fill in the application to offer cats a foster home from TCP in the future. At the end of the volunteering, alumni donated cat litter and canned cat food to the organization. 
Sirli has gone to help the organization and visit the cats yet again since the January visit.  
"The reason why I organized a FLEX alumni visit to the Cat Room (TCP) was because I've been donating to this certain Cat Room for a while," Sirli said. "The organization is located quite close to me, and my own cat whispered into my ear that I should go have a look and volunteer. I heard from a couple of friends that this place is sweet, so I decided to join these two thoughts and go."