By Kristina Stierankova '20 (Hrachovo, Slovakia/ Kuna, ID)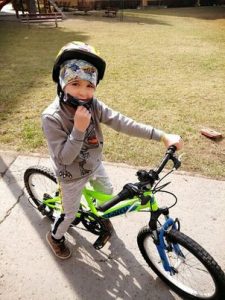 In December, as FLEX Slovakia Alumni Coordinator, I organized a personal appeal activity to help a family in need. The family, whose son, Šimonko, has leukemia, needed money for necessary treatments, and for his big dream: to fly. 
Though seven-year-old Šimonko fears heights, he always dreamed of flying in a hot air balloon, especially after his sickness, as he wished to fly and say hello to his friends from the hospital who had already passed away. 
After getting to know dakujeme.sk, a charity organization that shares stories of families in need on their website where people can donate, I knew I wanted to help Šimonko, whose story was first promoted by the organization and shared on social media.  
After the social media promotion, many people realized this family needed urgent help. More than 100 people donated 2,438 euros, surpassing the goal of collecting 2,000 euros, in less than two weeks. 
The family was incredibly thankful to everyone who helped them this way. I remained in touch with the mother, and together we wrote a thank-you letter that was later posted on the website.  
This story was also published in a newspaper called "Nový Čas."  
In sponsoring this activity, I had two goals: First, to help the family financially so they could have a pleasant holiday, not worrying about failing to pay for their son's treatment. Second, to raise awareness about leukemia and the treatment that requires a lot of strength.  
I was very glad to hear that Šimonko is planning to fly in a hot air balloon soon thanks to the people who heard his big dream and gifted him this experience.