September 27 may seem like a random date to some, but it is a very special day for FLEX alumni. It is the date we celebrate FLEX Appreciation Day and thank and honor the many people who contribute to the program's impact all over the world.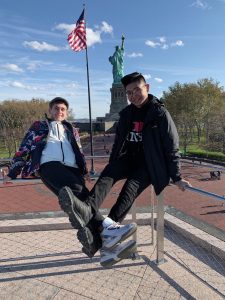 The alumni community in Kazakhstan found a way to honor the program and its supporters this year despite the global pandemic: Ramil Akmolin '20 (Nur-Sultan, Kazakhstan/Schertz, TX) organized a social media contest in which alumni were encouraged to post their favorite memories from their exchange experiences and explain why they chose those particular memories.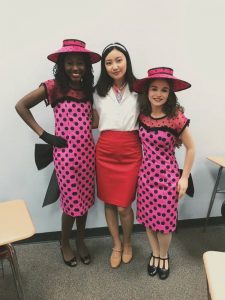 Sofya Khabieva '20 (Uralsk, Kazakhstan/Ellwood City, PA) shared a memory from when she was in her host high school's annual musical. "Participating in a musical is one of the most memorable experiences from my exchange year!" Sofya wrote. "Sure, winter sports are fun, but ever since I have watched 'High School Musical' I have always dreamed of being a part of a musical in the U.S.—chatting with the costume crew, long [rehearsals], helping each other with makeup and hair, trying on costumes for the first time, memorizing songs, hearing applause from the audience, and waiting for your scene to start. Even though I was only a part of the ensemble, I am so thankful that I got to experience something so exciting!"  
Eldar Karessov '20 (Uralsk, Kazakhstan/Clear Lake, IA) reflected: "Without the FLEX program I'd be thousands of steps away from my best-self, would not [have met so many] great people, and would not [have found] a family on the opposite side of the world (my host community) and all around the world (FLEX community)." 
Other alumni shared stories about visiting Disneyland and catching a fish with their bare hands. In total, 13 alumni shared 15 different stories on Instagram, with a total reach of nearly 3,000. This program successfully encouraged alumni to dive back into their exchange experiences and embrace a wave of nostalgia.  
Written by Ramil Akmolin'20 (Nur-Sultan, Kazakhstan/Schertz, TX)