Congratulations to the winners of the 2021 FLEX Alumni Photo/Video Contest!  The FLEX Alumni Program coordinates an annual photo/video contest and this year alumni were invited to submit photos and videos from their exchange year in the U.S. The 2021 contest was split into 6 categories.
The categories include:
Host Family Events (for example, vacations, family traditions, or game nights)
School Events (for example, spirit week, dances, or classroom experiences)
Extracurricular Activities (for example, school clubs, sports, theater, art, or other outside of school activities)
Volunteering Activities (for example, photos of you volunteering on FLEX)
Sharing of Culture Activities (for example, holidays, IEW, food, or presentations)
Videos created by alumni that highlight any or all or aspects of their FLEX year.
A team of judges from the U.S. Department of State Bureau of Educational and Cultural Affairs reviewed all of the photos and videos with stories defining them, and chose two winners for each category.
Congratulations to the winners!
First Place Host Family Events: "My First Ever Baseball Game with my Amazing Host Family."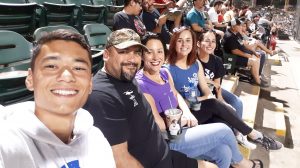 My host family took me to a baseball game. This was my first experience watching a baseball game. We were supporting our local team, Rawhide. It was such an unforgettable night during my exchange year. – Amirkhon Fakhriev '20 (Isfara, Tajikistan/Visalia, CA)
Runner- Up Host Family Events: "A Dream Come True: Disney World"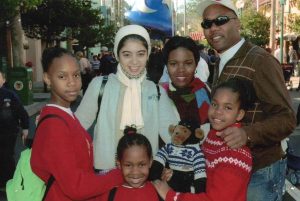 My host family organized a special surprise for me on Christmas. They knew how much I wanted to see Disney World. During Christmas break, we went to the parks in Orlando, FL. I will never forget this experience. We shared so many great happy moments. – Zulfiya Hummedova '05 (Ashgabat, Turkmenistan/Montgomery, AL)
First Place School Events: "First Homecoming Corsage"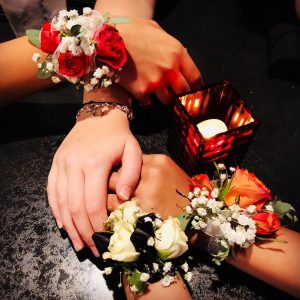 I had my first Homecoming at Carlisle High School. My lovely host parents bought me a wonderful corsage. The girls and I went to dinner and took pictures of our corsages. I know the flowers do not look the same now, but I still keep the corsage in my room because it reminds me of my first homecoming. – Nigar Jalilzade '20 (Baku, Azerbaijan/Carlisle, IA)
Runner-Up School Events: "Exchange Unites"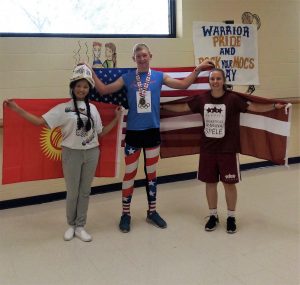 During homecoming spirit week, one of the themes was the Olympics. FLEX exchange students Karina from Latvia and Mira from Kyrgyzstan dressed up for this day as athletes from their respective countries. This was a chance to not only introduce our classmates with the sports culture in our home countries, but also a chance to take a picture with our flags just like in the Olympics. This picture is a good representation of the positive friendships and ties we created between different countries during our exchange year and the various opportunities to represent our countries, cultures and share interesting facts. – Karina Vintere '17 (Ventspils, Latvia/Ruidoso, NM)
First Place Extracurricular Activities: "Where there is unity there is always victory – Publilius Syrus"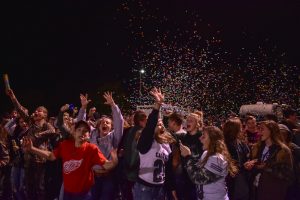 This is a picture of Cass City High School students celebrating the victory over Unionville-Sebewaing High School at the first home football game. I was on my first yearbook photo shoot and captured the moment when the game ended. I was impressed by the intensity of football (it was my first time watching it) and the wonderful connections the sport makes between the students and the team. – Khuslen Zaya '20 (Choibalsan, Mongolia/Cass City, MI)
Runner-Up Extracurricular Activities: "I Know it is Wet and the Sun is Not Sunny, but We Can Have Lots of Good Fun Anyways"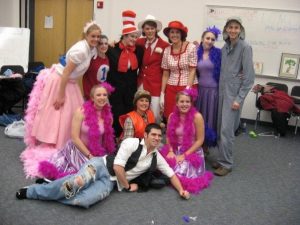 During my exchange year in the U.S., I was a part of many extracurricular activities. One of them was Drama Club. As a part of Drama Club, we staged several plays. One of them was "Seussical the Musical" by Dr. Seuss. I played a role of a hunter and a role of the wild animal. – Mariya Honkanen '07 (Moscow, Russia/Hudson, MA)
First Place Volunteering Activities: "Volunteering at a Local Fundraiser"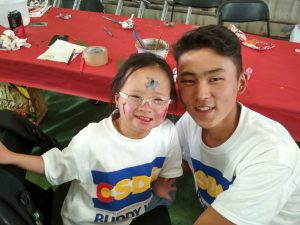 This is a picture from the Colorado Springs Buddy Walk. It was a big experience for me to fundraise money for a non-profit that helps kids with Down syndrome. I was a volunteer at a face painting station for 2 days, where I helped spread positivity. This was a new experience for me, as it was my first-time volunteering in the U.S. and to be involved in activities that spread inclusivity.  Now, I am involved in projects to spread an inclusive atmosphere in my home country. – Aidin Turganbekov '18 (Bishkek, Kyrgyzstan/Monument, CO)
Runner-Up Volunteering Activities: "Best Volunteering Experience!"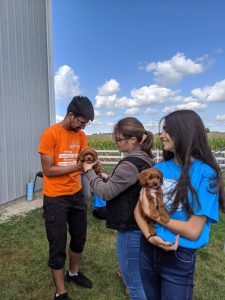 My first volunteering in United States, was at a puppy shelter, where we had to help take care of puppies with my fellow exchange student friends. We learned about each breed of puppy and spent the day with them! – Aisha Bashirova '20 (Baku, Azerbaijan/Portland, IN)
First Place Sharing of Culture Activities: "Taste of Culture is Served"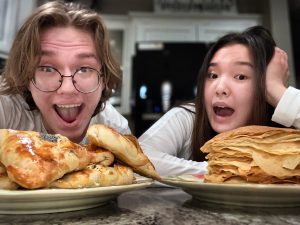 During my exchange year I cooked lots of traditional meals from Kazakhstan. One day I decided to invite my fellow FLEX friend Aigerim to my home.  Together we bought the ingredients at the supermarket and prepared dishes that were prepared in every house in Kazakhstan – samsa and blini (in the photo on the left is samsa, and on the right are blini). My host family really liked the food we prepared. My host mom even asked for a recipe! – Viktor Delegach '20 (Karaganda, Kazakhstan/ Huntsville, TX)
Runner-Up Sharing of Culture Activities: "Wait! Where is Slovakia?"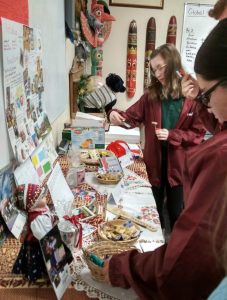 I took this photo during International Education Week in 2019. One of my presentations about Slovakia was during my English class at my host school. I prepared for my schoolmates and teacher a typical Slovak food called "krumpľaniky". You can see my schoolmates taking one piece and trying it out. They are also reading some fun information about my country and looking at the stuff I brought to represent Slovakia. – Kristina Stierankova '20 (Hrachovo, Slovakia/Kuna, ID)
First Place Video: "The Impact"
Living far away from my grandma made me miss her terribly, and this homesickness took me to the Adel Acres nursing home, where I made best friends with the residents. Not only did I try to make their day a little better, but I also wanted to make them feel that they were not alone. Each time I visited I tried to come up with new activities and fun games for us to play like bingo, domino, and puzzles. Although I had to repeat my name during every visit (as they could not remember it), they knew who I was, and they looked forward to my visit. As the great African American poet Maya Angelou once said, "They may forget your name, but they will never forget how you made them feel." A few months ago, I received a devastating message about one of my favorite grandmas from Adel Acres passing away. Although she was 95, she remembered who I was, saying that she wanted to adopt me (the "Guffy kid"). I am thankful for the FLEX program for helping me shape the best of myself and impact people's lives who will never be forgotten. – Lida Asilyan '19 (Ijevan, Armenia/Adel, IA)
Runner-Up Video: "FLEX Year as a Culture Exchange"
My exchange year was a true culture exchange for me, and I loved every second of it. In the video I tried to show my most memorable culture exchange moments. I am very thankful for the FLEX program and for the opportunities it brought me. – Kristina Stierankova ´20 (Hrachovo, Slovakia/Kuna, ID)