Krystyna Senchenko '14 (Lviv, Ukraine/Oakley, ID) interviews Anna Devyatko '14 (Lviv, Ukraine/Lake in the Hills, IL) about her project "English to the East". Anna implemented this project in the Spring of 2020 to help teach English to teenagers in the Eastern regions of Ukraine. Krystyna got together virtually with Anna to talk to her about the project, how she came up with the idea and the impact it has made in the community.
Krystyna: Tell us about your project "English to the East"?
Anna: "English to the East" is a unique online mentoring program for young English learners, most of whom are teenagers from the occupied regions of Eastern Ukraine and many are internally displaced peoples. My classmates from the Ukrainian Catholic University, Elzara Halimova and Darka Mymka, helped me launch it in March 2020.
K: How did you start the project? Where did you get your inspiration?
A: The idea for the project was born while I was pursuing a master's degree from the Ukrainian Catholic University. It initially started as a "long-term assignment" that was I working on for my Project Management class.
Prior to the COVID-19 pandemic, I took part in a social project called "Vertep to the East", where I performed Christmas carols for the military. It was during this experience I realized how isolated people must feel who are living in the occupied territories.
Then when Ukraine was put into lockdown, I noticed that the frustration of isolation and virtual learning, has been present to those living in the Eastern occupied territories since 2014. The kids there are used to studying online since many of their schools had been destroyed. Therefore, I thought how I could help them feel connected to others using the virtual tools they already knew how to use.
K: Tell us more about the participants and the mentors – who are the participants?
A: During the pilot project in the spring of 2020, we had 11 participants and mentors. After this 3-month testing period and working with the feedback we received, we  recruited 31 participants and mentors for the next session.
As for participants, we mainly recruit 12–17 year old teenagers from the Donetsk and Luhansk regions who are also internally displaced peoples. We match them with their personal mentor based on shared values and interests.
There are no strict requirements for our mentors, except for them to have a high level of English fluency and sufficient time to dedicate their time to the project. In fact, many of our mentors live in other countries like Canada, Lithuania, Denmark, Poland, and even China! Some of them are FLEX and Ukrainian Leadership Academy alumni, others are emigrants who have Ukrainian origin or are foreign exchange students.
All of our volunteers have big and kind hearts!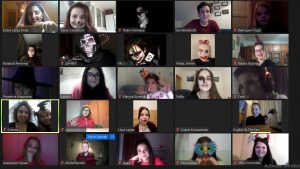 K: What is the goal of "English to the East" and how are you accessing its impact?
A: The goal of the project is to fight isolation due to both the tense political situation and the pandemic. We want them to find out about existing opportunities for their professional and personal development and, of course, encourage them to keep learning English.
Even though it might seem hard to measure the success of the project, we hope to establish a large online community participants and mentors.  This community would be a safe environment where all involved can request career advice, discuss educational opportunities, and simply make friends from different corners of the country and the world.
Regarding our smaller goals, we hope that participants will improve their grammar and speaking skills and we will measure this by holding language testing throughout the sessions.
Doing good deeds is not hard. If at least one person has their life changed for the better after this project, then I consider it a success!
K: Are there partners who have helped you implement this project? 
A: We have three partners that support and cooperate with us:
The Polish-Ukrainian Charity Fund or "PTACH", which is actively involved in organizing educational camps for children from the Eastern regions of Ukraine. They help us with legal issues.
The English school, "Ever English" (established by FLEX alumna Yana Kozachenko '06 (Kyiv, Ukraine/San Antonio, TX) assists us with creating appropriate lesson plans and keeping our content engaging.
And finally, the EPAM IT company, which agreed to develop a mobile app for our project.
K: What emotions did you have when you launched the "English to the East" project? 
A: I was so nervous! We didn't know these kids and we weren't as familiar with Zoom as we are now. Before this project, I could never imagine that so many people could gather online at the same time! At the beginning of our lockdown, it seemed impossible.
In the first session, we broke the ice within the first five minutes. We were all on the same wavelength and had the same goal. Our Lateral communication contributed to developing a safe environment for both participants and mentors.
Written by Krystyna Senchenko '14 (Lviv, Ukraine/Oakley, ID)