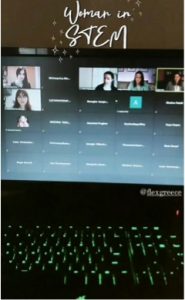 On February 13, Maria Kostomanolaki '20 (Heraklion, Greece/Hanford, CA) organized a webinar called "Women In STEM" for youth in her local community. Three successful women who  work in the fields of Science, Technology, Engineering, and Mathematics (STEM); Olga Mavi, Co-Founder and Head of Product at Socital; Magy Kontou, Co-Founder and Lead Product Designer of SimpleApps; and Dr. Anna Zagorianou, Founder of the Human Nature YouTube Channel, were invited to talk about stereotypes within their professions and how they overcame them. In addition, the speakers encouraged attendees to pursue a career in STEM and answered questions and concerns participants had about entering the industry.
The event was a huge success, with over 200 people from all over Greece joining the zoom call. Attendees provided very good feedback, with one attendee stating, "A big congratulations for organizing this meeting, you have really inspired me very much." After hearing this feedback, Maria was motivated to start a series of webinars called "FLEX ED" to continue teaching her community about a wide range of topics to inspire curiosity and promote a habit of life-long learning.
The recording of the "Women in STEM" event can be found here.
Written by Athina Mirchosravi '20 (Sparta, Greece/Wheeling, WV)