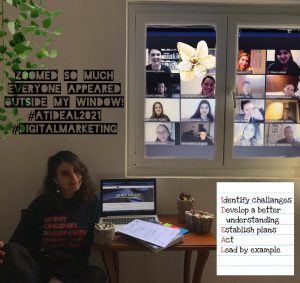 Sixty-one FLEX and YES alumni from Albania, Bosnia and Herzegovina, Bulgaria, Greece, Kosovo, Montenegro, North Macedonia, and Serbia gathered on Zoom on March 18-23 for the eleventh annual regional workshop for alumni in Southeast Europe, the fifth annual IDEAL Workshop, and the first event to include Greece, which joined the FLEX program in 2019.
Participants spent the first day's session in country groups learning teambuilding, constructive communication, dialogue facilitation, and conflict resolution skills. These sessions were led by Alumni Coordinators.
The majority of the program was spent in theme groups where alumni from across the region, led by mentors from the region's U.S. government-sponsored exchange program alumni community, explored one of four topics: communication, digital marketing, gender equality, or mental health. These topics were selected by alumni themselves through a series of surveys and idea-gathering.Country groups came together at the start of each day's program to share what they learned in their theme groups the previous day and to discuss ideas for related community projects. These discussions culminated in post-workshop meetings in country groups, held the following weekend, where alumni developed community project ideas and presented these ideas to their peers for feedback before submitting proposals for funding.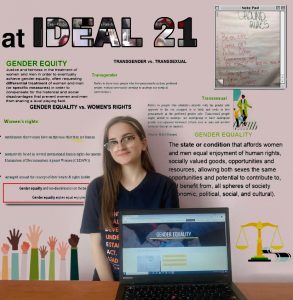 Participants' reflections on the program were overwhelmingly positive, calling it a "safe space," "what participants needed during this difficult time," "an example of how online events should be organized," and full of lessons "I'll use for the rest of my life." Participants also noted that the regional nature of the event was especially meaningful. As one participant wrote:
"Working with alumni from across the region made this experience unique. Now I have expanded my network and I can't wait to implement projects together and help each other out. I feel like an ambassador of my country and a bridge connecting my culture to the others – creating this global movement of open-mindedness, acceptance and motivation." Another described such experiences as "one of the most valuable things ever. Especially for our Balkan region, it just shows that no matter the past and the differences we are all the same people and can live and prosper together in peace. Incredibly impactful and helpful."
Participants are now working on 27 individual and group projects related to what they learned at the workshop.
Participant Feedback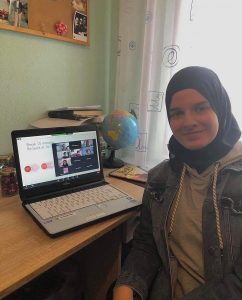 "One of the best workshops I have ever attended. Wonderfully organized, wonderful mentors, well-chosen participants."
"This is the best workshop I have ever been to (and I've been to many so take this seriously). Thanks so much."
"I feel so inspired, refreshed, like I charged my batteries."
"[The highlight for me was] EVERYTHING. The energy and positivity of the whole group, including our wonderful mentors. This is how online things should be held."
"I haven't had this much fun online before! It inspired me to participate in more other online activities, and even organize mine."
"You cannot ask me to choose just one [highlight] – every day brought something new, exciting and valuable…it's so bittersweet that this adventure is coming to an end. Till next time!"