The Virtual News Literacy Workshop gathered 15 participants and three mentors from nine countries for an examination of media and news literacy topics from April 12 – 19, 2021.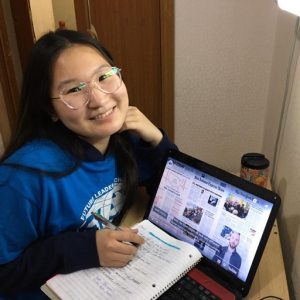 A team of trainers and consultants from American Councils for International Education guided a talented team of FLEX alumni through a Training of Trainers (ToT) to prepare them for a week of intensive instruction. The alumni mentors — Sabira Kakhimova '10 (Bishkek, Kyrgyzstan/Kokomo, Indiana), Nino Jibuti '11 (Chokhatauri, Georgia/Nampa, Idaho), and Iryna Shadeyko '05 (Bila Tserkva, Ukraine/Jenisson, Michigan)— then led participants through six days of training, spirited discussion, and project design focused on news literacy concepts.
This collaborative online course explained how the news gets made, what misinformation looks like, how and when to fact-check, and how to use the tools of professional fact-checkers to find trustworthy information. Through a combination of synchronous and asynchronous content, trainers and mentors guided participants to navigate the 21st century news landscape, as well as develop projects that they can then implement in their home communities to teach others these valuable skills.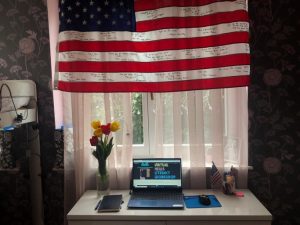 One hundred percent of participants rated the workshop as "extremely useful" and 93% reported that they "plan to share the skills and knowledge developed during the workshop" with friends, colleagues, and others in their country. Before the workshop, participants were asked to rate their levels of confidence, from 1 – 10, when it came to fact-checking information online. The average participant score was 5.6. After completing the week of instruction, post-workshop surveys saw the average level of confidence increase to 9.0.
One participant summarized the impact of the workshop by saying, "this workshop changed my outlook on how I will view information online from now on. I think more people should have news literacy in a world with so much freedom to spread disinformation."
Following the workshop, participants are required to implement a project sharing the lessons of news literacy in their communities. Each participant is eligible to apply for up to $250 in grant funding to implement these projects.