Have you ever wanted to travel around the world and learn about other countries and cultures? The first-generation of FLEX alumni from the Czech Republic, Greece, Hungary, and Slovakia, got to do just that this past November during International Education Week (IEW) 2020 without leaving the comfort of their own homes. Alumni from these countries led a series of Zoom presentations, where speakers (most of whom were FLEX alumni) presented about their home country's culture, traditions, geography and demographics. In total there were seven presentations, with speakers from Greece Hungary, Kazakhstan, Kyrgyzstan, the Netherlands, Poland, and Serbia.
The first presentation of IEW brought participants to Central Asia, with Kamila Churukova '16, (Karakol, Kyrgyzstan/Powell, OH) presenting about Kyrgyzstan. She gave participants a heartwarming welcome to her country, by showing them pictures of its beautiful scenery and their tastiest dishes. She even shared the most interesting myths and legends from the country. Attendees learned a lot about the country from how people live in yurts to national traditions.
Later in the week, the alumni were able to travel to both the Netherlands and Kazakhstan in the same day, something that is truly only possible virtually! To start the day Milana Baissultanova '20 (Almaty, Kazakhstan/Russellville, AR) presented about the differences between the U.S. and Kazakhstan. She shared with attendees' pictures of Kazakh traditional clothing, the amazing food the country has to offer (which she mentioned she missed a lot during her FLEX year), and the beautiful landscapes throughout Kazakhstan.  She also took time to talk about her year in Arkansas, and how vastly different it was from Kazakhstan, but how it became her home away from home.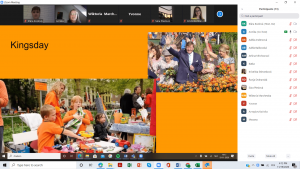 After Milana, Annika Dallinga, another exchange student who spent a year in the U.S. from the Netherlands, took the participants a bit closer to home and presented on what life is like in the Netherlands. She showed them pictures of the country, and various aspects of their culture. She even shared some fun facts, including that the Netherlands has the highest average consumption of black licorice in the world and that there are more bikes than there are people in the country. Attendees were very surprised that this small country had so much to offer.
By the end of IEW these new FLEX alumni learned a lot from their peers and their countries across the globe, without even having to step out their front door. They got the opportunity to learn about Kyrgyz living in yurts, what traditional clothing from Kazakhstan looks like, and about how much Hollanders enjoy riding bikes. All the alumni ended IEW learning something new and developing an even bigger desire to travel to a new country.
Written by Klara Kozlova '20 (Těrlicko, Czech Republic/Russellville, AR)