During the COVID-19 pandemic FLEX alumni events have been moved online to be in compliance with local government regulations. This has pushed alumni to adapt in order to continue implementing FLEX projects and impacting their local communities.
On November 24, the FLEX Alumni Coordinators in Ukraine, Krystyna Senchenko `14 (Lviv, Ukraine/Oakley, ID), Anastasiya Tokareva `16 (Kyiv, Ukraine/Opheim, MT), and Stanislava Borovska `18 (Kharkiv, Ukraine/Otsego, MI), organized a webinar for FLEX alumni from across country to come together and discuss how they as alumni can implement their own virtual events and how to do so successfully. The organizers also invited representatives from the Window on America – Lviv to share their best practices that they use in their daily virtual work.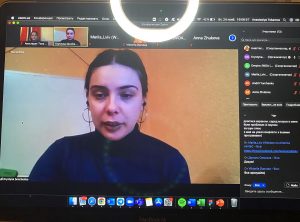 The discussion was very productive and the FLEX Alumni walked away learning some great new tips on how to continue helping their own community virtually. Here are some of the great tips that were shared with the alumni:
Mailing workshop supplies to participants – Some think that online events are limited to lectures and speaking clubs, but craft workshops are still possible. While organizing an online event, it is a good idea to create packages with the materials needed for the event and mail them to the participants, this will even bolster attendance.
Rethinking the concept of a speaking club – Now is the perfect opportunity for organizers to utilize all the perks that social networks provide. A great way to engage the community and get other alumni practicing their English is to create group chats within these networks. These chats allow for participants to record video and audio messages in the chat and send GIFs.
Watching a movie together online – 2020 has introduced many new tools for people to have a movie night together without leaving their own couch, such as NetflixParty, Kosmi, and Discord. This is a great way to bring participants together to have a shared experience, which they can discuss afterwards.
Using virtual whiteboards to brainstorm and work together – During events flipcharts and post-it's are often used for discussions and brainstorming sessions. Fortunately, there is an online option as well, participants can now use websites like Miro, Whiteboard, and Ziteboard to write down and share ideas with each other.
Getting the most out of Zoom – Zoom provides users with many functions that allow for creativity when organizing online events, such as breakout rooms, reactions, annotations, and simultaneous screen sharing. While putting these virtual events together it is important to utilize these in order to keep participants engaged.
Holding live events on social media – Hosting live streamed events on social media platforms like Instagram and Facebook is a simple and fun way to engage a large audience all at once. These can pre-planned or even spontaneous allowing for your followers to listen in when they want to.
We're eager to continue seeing outstanding online events from the FLEX Alumni community in Ukraine!
Written by Anastasiya Tokareva '16 (Kyiv, Ukraine/Opheim, MT)