What will my host family be like? Will they like me? Will I fit into their family? Will I feel like home with them? These were just some of the many questions I had running through my head before I traveled to the United States. I was anxious about meeting my host parents, but when I saw them at the airport and hugged them, my fear immediately disappeared. They were loving people and treated me like their own daughter, and I felt like I was at home with them. My dad was a pastor, and my mom helped take care of an elderly lady, so they were very caring people.  With my mom we baked a lot, went for walks, and volunteered at our church. With my dad we used to run, go on hikes, sing in the Christmas choir, go kayaking, and play games.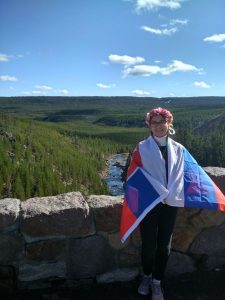 We traveled a lot together as a family. During our trips, we got to know each other better and strengthened our relationship. The most beautiful trip that we went on was to Yellowstone. I also really liked the Christmas lights parade, and our trip to McCall, the city with highest average annual snowfall in my host state, Idaho. In addition to Idaho, we also discovered the beauties of Washington and Oregon where the rest of my host family lived.
I had four host siblings – two brothers and two sisters – who treated me like their own sister. All four of them were living away from home, but I got the chance to spend time with them during the Thanksgiving and Christmas holidays. Moments spent with my family were the most beautiful ones of my year.
Before traveling to America, I heard one saying, "It doesn't matter where you are, but the people you're surrounded by." That is definitely the truth. It did not matter where I was, as long as I was surrounded by people who cared about me, I was happy. I am still in touch with my host family and we cannot wait to meet again.
My advice for anyone going on an exchange year is to communicate as much as possible with your host family and to get to know each other every single day. Tell them what is bothering you or if you miss your family. They will always be there for you and understand you. Your host family will be your biggest supporters during your exchange year.
Written by Kristina Stierankova ´20 (Hrachovo, Slovakia/Kuna, ID)