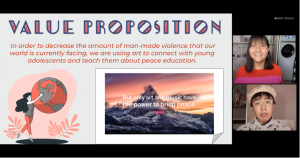 The Virtual Exchange Workshop gathered 35 FLEX alumni and six mentors from 16 countries to learn the process of planning and implementing a virtual exchange. The collaborative online course explained the foundations of virtual exchange and walked participants through the planning process, including creating a pitch deck, promotional videos, as well as practice presenting and assessing virtual activities. Through a mix of synchronous and asynchronous meetings, participants were guided through how to plan, budget, and assess their projects, as well as how to apply for follow-on grants to implement their projects.
A team of trainers from American Councils for International Education guided a talented team of FLEX alumni mentors through a Training of Trainers (ToT) to prepare them for four weeks (November 13 – December 14) of guidance and instruction. The alumni mentors – Elmira Ayvazyan '15 (Echmiadzin, Armenia/Burleson, TX), Kristine Milorava '07 (Tbilisi, Georgia/Muncie, IN), Azat Toroev '14 (Tokmok, Kyrgyzstan/Fort Collins, CO), Ksenija Edelinski '13 (Novi Sad, Serbia/Kemmerer, WY), Eduarda Fediukova '16 (Mykolaiv, Ukraine/West Des Moines, IA), and Yelyzaveta Hlybchenko '13 (Zhytomyr, Ukraine/Colorado Springs, CO) – then supported participants as they made their way through the process of designing a virtual exchange while themselves taking part in a virtual exchange.
Projects were designed around six core themes: Health, Environment, Women's Empowerment, Social Entrepreneurship, Literacy & Education, and Peace Education. Participants used a collective resource hub where they watched weekly videos and collaborated on activities using shared tools in Google Drive. During the third week of the program, participants created promotional videos for their exchanges, highlights of which can be seen here.
Feedback for the workshop was largely positive, with 97% of participants reporting they feel more connected to the alumni community as a result of the training, and 89% indicating they feel inspired to implement a virtual exchange of their own after participating in the training. Participants highlighted learning online presentation skills, how to use digital tools and platforms, how to give constructive feedback, virtual communication skills, and how to make online interactions engaging as the greatest takeaways from the workshop.
One participant described the impact they workshop had on her by stating, "I've participated in many events held online so far. But this one was the most engaging and informative. (The workshop was a…) very good balance of knowledge and fun activities. Also, it was surprisingly easy to form meaningful connections with other FLEXers, despite the fact that we only could see each other through screens."
Participants of this workshop are required to organize and hold a virtual exchange of their own, where they can take the ideas they developed at the FLEX Alumni Virtual Exchange Workshop and bring them to life!