I spent my FLEX year in Fort Bragg, North Carolina. I've always wanted to experience American holidays because they're so different from ours in Slovakia. I was looking forward to Halloween the most because we don't celebrate it that much at home, so I was very curious and excited to experience real Halloween in the U.S.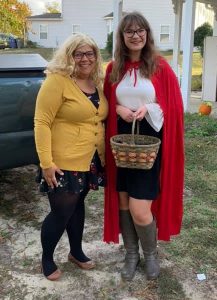 My host mom Natalie started preparing for Halloween early, as early as the end of September. I thought it was too soon, but then I understood why. Since I had four younger siblings, they needed to come up with costumes for all of them! At first, we were planning on having a family costume, but we couldn't decide on what to go as so we ended up having individual costumes. For a long time, I couldn't decide what I should dress up as for my first real Halloween, but I eventually decided to dress up as Red Riding Hood. I had all the necessary materials and clothes but was missing the coat. My host parents took me to Walmart, where I found the perfect coat for my costume. Then Natalie lent me a basket and I was ready!
Leading up to October 31st, we carved pumpkins and set up various Halloween decorations around the house, which my host siblings helped me with. On the day of Halloween, we decorated two cars, filled them with sweets and went ''Trunk or Treating", which is a bit different from the typical "Trick or Treating". During ''Trunk or Treating" people don't go from house to house, but instead everyone comes with their decorated car filled with sweets to one big parking lot and people walk around and sing carols. Before I went to America, I didn't know this was a thing, but I was pleasantly surprised! I handed out sweets to hundreds of kids who were dressed in all kinds of costumes and it was so much fun.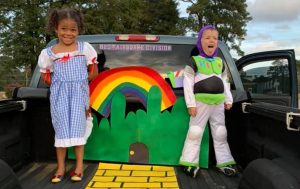 I didn't imagine my first Halloween to be like this, but in the end, it was amazing, and I'd definitely like to experience it again.
Written by Zdenka Škerdová ´20 (Zuberec, Slovakia/ Fort Bragg, NC)