In October Assistant Secretary of State for Educational and Cultural Affairs Mary Royce visited Budapest, Hungary to participate in the unveiling of the statue of former President George H. W. Bush in Liberty Square. The statue commemorates "mutual appreciation and gratitude for the statesman, who contributed to shaping the future of Europe and within Hungary through his commitment and strong morals, and through his advocacy for democracy and against communist dictatorship," according to a joint statement from U.S. Ambassador David B. Cornstein and Gergely Gulyas, Prime Minister Viktor Orban's chief of staff.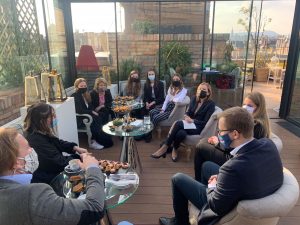 Prior to the unveiling, Assistant Secretary Royce invited FLEX and Benjamin Franklin Summer Institute alumni, to meet with her and discuss the impact their programs had on their lives and how the exchange has influenced what they are doing today. It was a unique opportunity for the four FLEX Alumni involved; Fiona Both '20 (Szentendre, Hungary/Fountaintown, IN), Viktoria Papp '20 (Debrecen, Hungary/Reedley, CA), Boglarka Sandor '20 (Dunaharaszti, Hungary/ Seattle, WA), and Reka Zanto '20  (Paks, Hungary/Goodyear, AZ); to introduce themselves to Assistant Secretary Royce and share their FLEX experience with her. In addition, the alumni learned about the Assistant Secretary's professional career and what she does as the head of the Bureau of Educational and Cultural Affairs. Assistant Secretary Royce was very open with the alumni and shared some personal and funny stories with them.
The alumni involved enjoyed the experience and they left the meeting thankful for the opportunity to meet Assistant Secretary Royce. This event left a lasting impact on them and will take this experience and use it as inspiration to continue creating an impact in their local communities in Hungary.
Written by Fiona Both '20 (Szentendre, Hungary/Fountaintown, IN)