In the four years of its existence, the FLEX alumni community in Estonia has connected by creating traditions that bring the community together. Their staple events that have become tradition are the annual visit to Maarja Village during the winter holidays and a visit to the residents at the Tartu Nursing Home on Valentine's Day.
At the Maarja Village, an assisted living community where young adults with learning disabilities have access to support to live independently, alumni visit the village and the young adults in late November where they sing songs by the Christmas tree and bake gingerbread cookies together. In 2019, they baked so many gingerbread cookies, that the main table didn't have enough room for them all! Through this annual visit alumni have become good friends with the head of the village, who shared that the residents look forward to their visit every year. The visits to Maarja Village are a great example of how annual events are fun for the alumni and a valuable way to develop meaningful relationships with people and organizations in Estonia.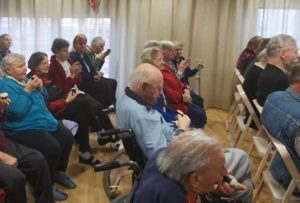 The year 2020 launched a new tradition, a visit to the Tartu Nursing Home on Valentine's Day. In Estonia, Valentine's Day is not only a holiday for people who are in love, it also celebrates friendships.  To celebrate, alumni baked muffins together and brought them to the nursing home where they had a snack and talked with the residents.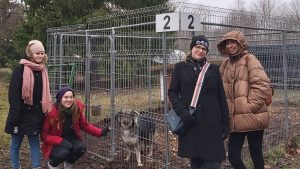 Also in 2020, alumni started to regularly visit the Tartu Animal Shelter to care for the animals and take them on walks. Alumni got their daily dose of exercise and fresh air, while also enjoying the company of some of the friendliest dogs in town. This event was a great opportunity to raise awareness about the animal shelter and hopefully help some animals find a new and loving home.
These new and established activities in Estonia have turned out to be a great addition to the activities of the alumni community. One benefit of these events is that it helps alumni feel that they are part of a large community.  Alumni also know in advance exactly what to expect when joining the events.  These traditions bring the FLEX alumni community together and create deep connections with the local community.
Written by Katriina Gorjunov '17 (Tartu, Estonia/Kailua, HI)