In Georgia, 13 FLEX alumni volunteered their time and took on leadership positions becoming City and University Representatives in 2019-2020.  These CRs and URs implemented 107 projects across the country and adapted to new challenges that arose due to the COVID-19 pandemic. These outstanding alumni went above and beyond to generate a positive impact in their cities and universities. To highlight their amazing work, former Alumni Coordinator in Georgia, Tea Mikadze '16 (Tbilisi, Georgia/Longview, WA) chose her three favorite activities from among the 107:
Number 3…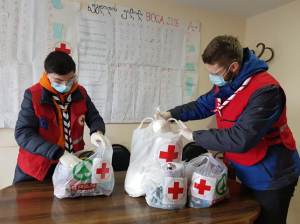 United We Stand: The government restrictions put in place due to COVID-19 impacted everyone's lifestyle in Georgia. To adapt to the restrictions, a special training was held to teach CRs and URs on how to plan and implement projects online. As a result of the training, the project "United We Stand" was organized by the community in collaboration with the Red Cross Society of Georgia. Fifteen volunteers from eight cities created over 1,000 informational bulletins that raised awareness about the virus in cities across Georgia.
Number 2…
Clubs, Clubs, Clubs: CRs and URs established clubs in their communities that brought together hundreds of people. The Leadership Clubs, initiated by the CRs in Telavi and Akhaltsikhe met once a month share opportunities for youth, hold discussions on volunteerism, and lead trainings on leadership and public speaking skills. In the spring meetings moved online and virtual clubs were formed.  These online club meetings grew immensely and brought together alumni and new youth who had previously never been involved in FLEX Alumni activities from across the country. These clubs stand out because they reached out to youth in Georgia and taught them how to make an impact on their communities.
Number 1…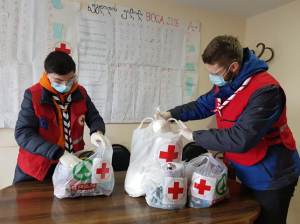 Christmas in a Shoebox: All 13 CRs and URs were involved in a project that aimed to bring joy to children during the holiday season.  The volunteer CRs and URs and alumni in their communities collected shoeboxes and donations, wrapped them in gift wrap, and delivered them to children in orphanages in three regions of the country.  Alumni created over 100 "Christmas in a Shoebox" packages for five orphanages. This impact was felt across the country and alumni loved working together to bring the holiday spirit to children.
Thank you to all of the FLEX City and University Representatives in Georgia and throughout the FLEX world who spread the lessons, values, and spirit of FLEX to all corners of the planet.
Written by Tea Mikadze '16 (Tbilisi, Georgia/Longview, WA)