Since 2014, Daryna Lapay '07 (Odessa, Ukraine/Gilbert, AZ) and Yaroslav Lapay '08 (Kupyansk-Vuzlovyy, Ukraine/Muncie, IN) teachers at the I Love English Language School organized the "Camp Unity English Language Camp" in Ukraine.  The alumni brother-sister duo has since recruited their fellow FLEX alumni to staff the camp.
This camp is a valuable resource for the Kharkiv community and the FLEX alumni community in Ukraine. It provides alumni with the opportunity to develop teaching and facilitation skills as they teach children English. Since it's creation in 2014, the camp has offered English language classes to 16-18 years old. The camp helps participants improve their English fluency through fun activities, such as creative arts, interactive lessons, and hikes led in English.  The camp also provides the FLEX Alumni staff members the chance to share their one-of-a-kind experience in the U.S. with the participants.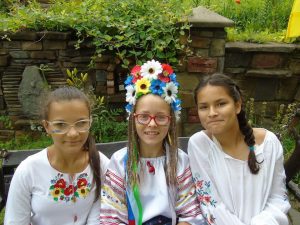 All of the participants of the camp are encouraged to apply for FLEX, and they spend the week asking their alumni-counselors more about their experiences in the U.S.  Camp Unity has offered a tremendous benefit to the FLEX Alumni community in Ukraine. It has given alumni the opportunity to teach and improve their skills, while giving the young adults in the country a place for English-language immersion. The camp is a great example of the impact that FLEX Alumni create in their home countries upon returning from their year in the United States.
Written by Vadym Hladun '16 (Kharkiv, Ukraine/Kalama, WA)