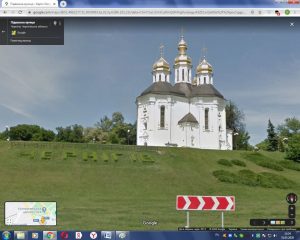 COVID-19 may be causing many restrictions across the globe, but this hasn't prevented the FLEX Alumni community in Central Ukraine from coming up with new ideas on how to get together virtually and learn new things! On May 31st, alumni explored the beautiful Ukrainian city of Chernihiv, through the game ""Chernihiv City Mini-Quest". This game was organized by Chernihiv City Representative Dmytro Lukashenko '18 (Chernihiv, Ukraine/ Franklin, MO), with help from the Window into America Center Coordinator Olena Hanzha, and fellow FLEX alumna Anna Kapelyukha '17 (Chernihiv, Ukraine/ Shreveport, LA).
The event brought together eight alumni from across the country to virtually explore the city of Chernihiv. Participants used Zoom to talk to each other, while using Google street view to move around the city from location to location. The event was somewhat of a treasure hunt, where participants worked together to solve riddles and find new and excited places within the city. For example, did you know that the very first Ukrainian singing fountain was installed in Chernihiv? Or that there is a pizza place in Chernihiv where it is a mandatory tradition to eat it with two forks? Chernihiv also boosts a library filled with ancient stained glass!  Participants learned where they can find all these places in the city and so much more.
The event was a blast and those who joined learned a lot about Chernihiv without leaving the comfort of their own home.  FLEX alumni continue to impress with the creative ways they connect virtually and learn new things!
Written by Yevheniya Vodopyanova '12 (Zaporizhzhya, Ukraine/ Iron Mountain, MI)