Karine Veersalu '17 (Rapla, Estonia/ Brookville, IN) is an ambitious alumna from Estonia. After returning from the U.S., she used her newly acquired skills to work as an English mentor at a middle school in Rapla and as a Special Assistant for Ovela, an Estonian-American IT company that works with leading organizations such as FEMA (the Federal Emergency Management Agency) and the European Space Agency. Just recently, she started classes to pursue a bachelor's degree in international relations at Tallinn Technical University.
Upon reflecting on her professional experiences thus far, she realized how impactful her time on the FLEX program was, stating "Studying abroad helped me develop intercultural understanding and communication skills and taught me resourcefulness and how to adapt in unfamiliar and uncomfortable situations. I am definitely more adventurous, curious, and have an easier time taking risks and putting myself out there. These traits I received from my international experience are invaluable to me and my career."
While working for Ovela, Karine was introduced to the White House Opportunity Project, which aims to help companies, non-profits, and universities use federal open data to build solutions to the U.S.'s toughest challenges. In 2016 Ovela took part in this project by developing a website called "FindYour.Town", which helps small towns in the U.S. build their online presence and promote the social and economic opportunities of the town. Karine's role for this was to write an internal case study on the project, where she analyzed its successes and shortcomings.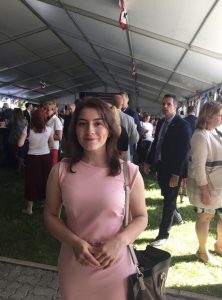 Karine was inspired by this project to replicate the idea in Estonia, saying "I really started to understand how rural communities are at a disadvantage compared to their urban counterparts.  Many face a lack of capacity and resources. They often do not have a strong presence on the web, which is crucial for economic and community development, as well as attracting investment and tourism. This is an issue all over the world and working on this project motivated me to find ways I can support my own hometown of Rapla."
In April, she used her professional know-how to launch the program "Meal Bridge Estonia" along with Carl Pucci, the. Principal of Ovela, and various other local organizations. The project raised over €4,000 to help local businesses and provide meals to front-line workers and families negatively impacted by the COVID–19 crisis.
Karine shares that "Being a part of the Meal Bridge program was so rewarding. It grew into a community effort that people were proud to be a part of and I'm glad we were able to spread some positivity during such a challenging time. I am very grateful for the experience and hope to do something like this again soon."
Karine encourages other alumni to move out of their comfort zone and try something new. "Be curious!" she says, "Put yourself in uncomfortable, unfamiliar situations. It can seem intimidating at first, but it is the best way to learn and grow and it will feel very fulfilling."
Written by Katriina Gorjunov '17 (Tartu, Estonia/ Kailua, HI)