On February 1, FLEX Alumni Coordinator in Central Ukraine Yevheniya Vodopyanova '12 organized an alumni get together at the Golden Gate Pub in Kyiv. Sixty-five alumni attended the event to chat, meet new people, see old friends and, of course, learn about upcoming events with the FLEX alumni program in Ukraine.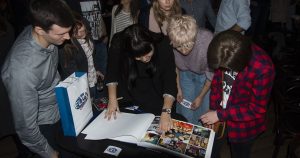 Yevheniya talked about current projects like the Exchanges to Internships and Mentoring programs and reminded alumni how they can connect with the program and their fellow alumni in Ukraine.  Participants also played a Kahoot game about FLEX program and a business card lottery to win fun prizes! To help build a relaxing vibe for the attendees, FLEX alumnus and DJ Oleksiy Safin '01 played music at the event.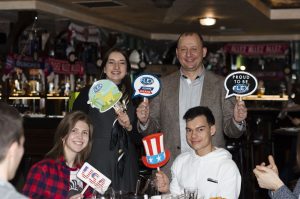 To top it off there was even a special surprise for the alumni – a photobook filled with photos from each FLEX Year, which brought back many great memories. This FLEX memory book was made by Yevheniya as a type of yearbook, which alumni could sign and add in encourage messages for future FLEX alumni.
This event was a huge success and a great reminder for involved to show how meaningful the FLEX program is to the alumni community in Ukraine.