Having seen in person how inclusivity and equal rights for people with disabilities are woven into the framework of American society, FLEX alumnus Aidin Turganbekov '18 (Maevka, Kyrgyzstan/Monument, CO) wanted to bring that home to Kyrgyzstan. He states that "After being in the United States, and seeing their attitude towards people with disabilities I  realized I wanted to bring this similar atmosphere to Kyrgyzstan. I want to help do this by creating an inclusive world and friendly atmosphere at the American University of Central Asia (AUCA)."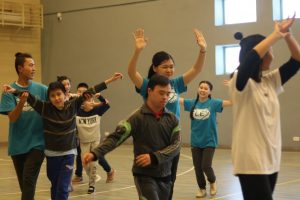 Together with his friend Kairat Tagaev '18 (Bishkek, Kyrgyzstan/Harrisville, MI), another FLEX alumnus, they came up with the project "Basketball For All" to work towards achieving this goal. This project utilizes the 30th anniversary of the Americans with Disabilities Act (ADA), a law in the United States that grants civil rights to those with disabilities and prohibits discrimination based on disability, as a catalyst for change in the AUCA community.
For this project Kairat and Aidin worked with 10 children from the Rostok Rehabilitation Center who have Down syndrome and Autism.  They brought this group of children to campus, introduced them to FLEX alumni studying there, and had the basketball team teach them basketball in order to transcend boundaries and create an inclusive and friendly atmosphere at AUCA.
These basketball sessions were organized from February till March of 2020. The children started by learning basketball skills through simple exercises and worked their way up to playing a full game. Each practice session was three hours long and was held with the support of two teachers from the rehabilitation center. In addition to the team teaching them, the FLEX alumni invited other students to help out. After each session the children and AUCA students got together for lunch to get to know each other. This introduced the children to the greater AUCA community and created an open and welcoming space for all.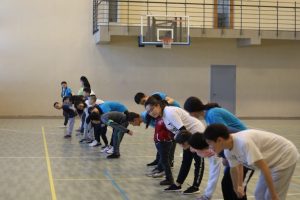 The finale of the project was a basketball tournament for the children with special guests from different organizations including government officials, and guests from the U.S. Embassy. Local reporters were also in attendance to report on the story.
The project only lasted two months, but it had a large impact in creating an inclusive atmosphere at the university for people with disabilities. It was so successful that the AUCA Board granted Aidin and Kairat an additional $1000 for the continuation of the project. With this project Aidin made progress towards his goal of weaving inclusivity and equal rights for people with disabilities into the framework of the Kyrgyz society.
Written by Kamila Churukova '16 (Bishkek, Kyrgyzstan/Powell, OH)