"Families are like branches on a tree. We grow in different directions, yet our roots remain as one." – unknown
Once you become a FLEX alumnus/a, you start seeing FLEX alumni everywhere you go; and, as families often do, you will try to connect with other FLEX alumni any chance you get.
This is what happened at the World Congress on Information Technology 2019 Yerevan (WCIT).  The congress hosted thousands interested in information technology, including over 30 Armenian FLEX alumni. WCIT is the signature event of the World Information Technology & Services Alliance (WITSA), a consortium of ICT associations from 83 countries, representing 90% of the industry. This year the event took place in the capital of Armenia from October 6-9 and FLEX alumni were actively involved in the conference both as volunteers and participants.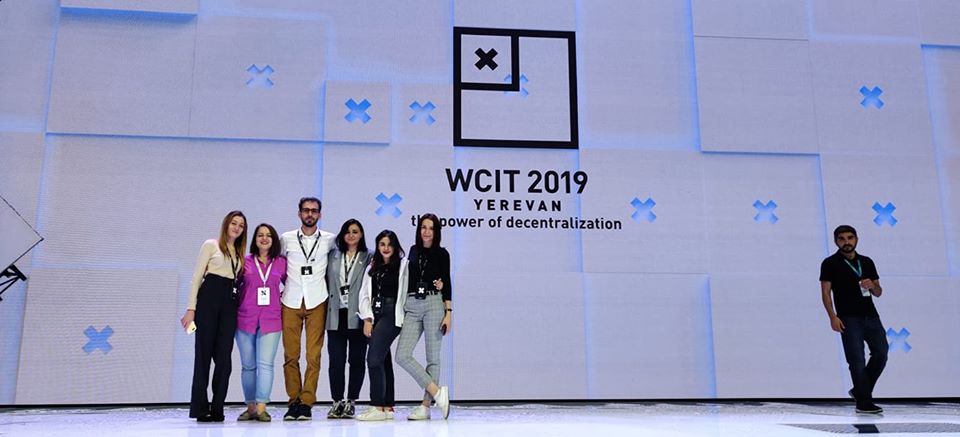 "There were almost 200 volunteers during the WCIT 2019 Yerevan," shares Susanna Avagyan '17 (Gyumri), "…and when I saw so many FLEXers, I was very excited. I know that FLEXers will bring their experience and personalities as leaders.  I knew that I could trust them to be active volunteers in our team of 200." Tatev Kyosababyan '17 (Gyumri) also volunteered at the event and noted that meeting fellow FLEX alumni at these such events is "…the same as seeing a family member."
FLEX is not just about the exchange year, FLEX alumni events, and reunions. It's more of a feeling you meet a fellow FLEX alumnus/a and instantly know you share a bond. You share an experience, an open-mindedness, and an understanding of how small and connected the world can become.
Written by Khanoum Gevorgyan