FLEX program alumni have been organizing camps since the early nineties.  The FLEX Alumni Website, The Bradley Herald, which used to be printed out and sent to FLEX alumni on a quarterly basis, first highlighted a FLEX Alumni Camp in the winter of 1995.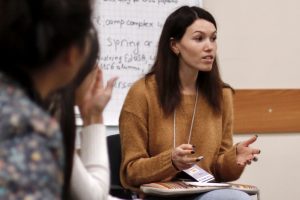 The Turkmen-American Summer Camp… "was organized under the supervision of three nice ladies from Peace Corps in Mary and with the help of other Peace Corps Volunteers (PCVs) and 5 FSA returnees. The summer camp was organized for 8th to 10th graders from Turkmen and Russian schools around Turkmenistan who spoke good English."    Read more about it in the fifth volume of The Bradley Herald:  https://bradleyherald.org/archive/.
With such an extensive history of camps and camp administration from the FLEX alumni community, the program organized a workshop to help alumni take their camp ideas to the next level of organization and safety at the FLEX Camps Workshop in Irpin, Ukraine on December 12-15, 2019.
Fifty-five alumni from eighteen countries attended the workshop, which focused on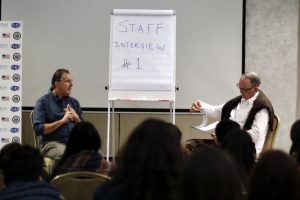 concepts of camp design, risk management, managing staffing teams, building community, navigating issues, and review of resources available in effective camp management.  The training team included trainers with over 80 years of camps management experience.  Manager of American Councils Camps Department Tom Toomey and Director of Programs at the Governor's Institutes of Vermont and former Graduate Instructor for Program Planning and Management at the SIT Graduate Institute Si Norton co-led the training with the support of a team of six FLEX Alumni mentors.
The mentors included:
Aizhan Tagaeva '11 (Bishkek, Kyrgyzstan/Rumford, ME):  Head of the Young Educators Educational Union in Kyrgyzstan and organizer of the English Summer Camp "El Campo" in 2012-2015.
Alexandr Hriptun '08 (Tiraspol, Moldova/Burleson, TX): Assistant in the Political/ Economic Section at the Embassy of Japan in Moldova and organizer of the 2011 camp EcoDniester and more recently the American flag football camp in Moldova, introducing young people to the American sport!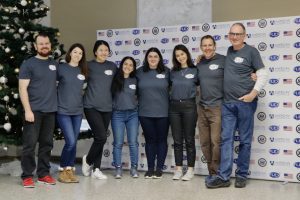 Natia Sharikadze '08 (Borjomi, Georgia/Jenison, MI): Program Officer for the FLEX Alumni Program with American Councils in Georgia and the organizer of the Civil Education Summer School in 2011 and a series of leadership camps with her NGO Spark, aimed to develop peace and mutual understanding among youth from different backgrounds living in Georgia.
Elmira Ayvazyan '15 (Armavir, Armenia/ Burleson, TX): Executive Assistant at Momentum
Research in Armenia and project manager for Border to Border 2019, an annual walk and workshop series co-organized by Peace Corps volunteers that extends from one boarder of Armenia to the other.
Dina Abazovic '15 (ASMYLE) (Bar, Montenegro/Winter Park, FL): Intern with the UN Development Programme in Montenegro, three-time FLEX and GYSD Grant winner, and organizer of the three-time Montenegro Civic Education Week Camp to teach youth in Montenegro about civics and government.
Daryna Lapay '07 (Kupyansk, Ukraine/ Gilbert, AZ): Teacher of English and German at the I Love English Language School and organizer of over 50 language camps including the MAKE Camp in 2013 and Camp Unity in 2016.
The workshop was a camp within a camp, with organizers sharing examples throughout the sessions to highlight how this workshop was organized so that participants could incorporate the best practices they saw at the workshop at their future camps.  Participants took part in teambuilding activities, sang morning camp songs, and participated in and organized evening activities that they could later incorporate into their camps.  During the monitoring and evaluation sessions, for example, participants highlighted the practice of taking in daily feedback at an evening meeting and making appropriate changes the following day as a practice that organizers at the FLEX Camps workshop demonstrated and they would like to repeat at their events!
At the conclusion of the event, alumni teams presented the camps that they would like to organize at home.  Many of the projects were highlighted as something that could be organized anywhere in the world and alumni recognized the wealth of ideas and resources at their fingertips as part of the FLEX alumni Camps Workshop network.  Final projects included coding, agricultural, mental health, career readiness, English and American culture, and environmental sustainability camps.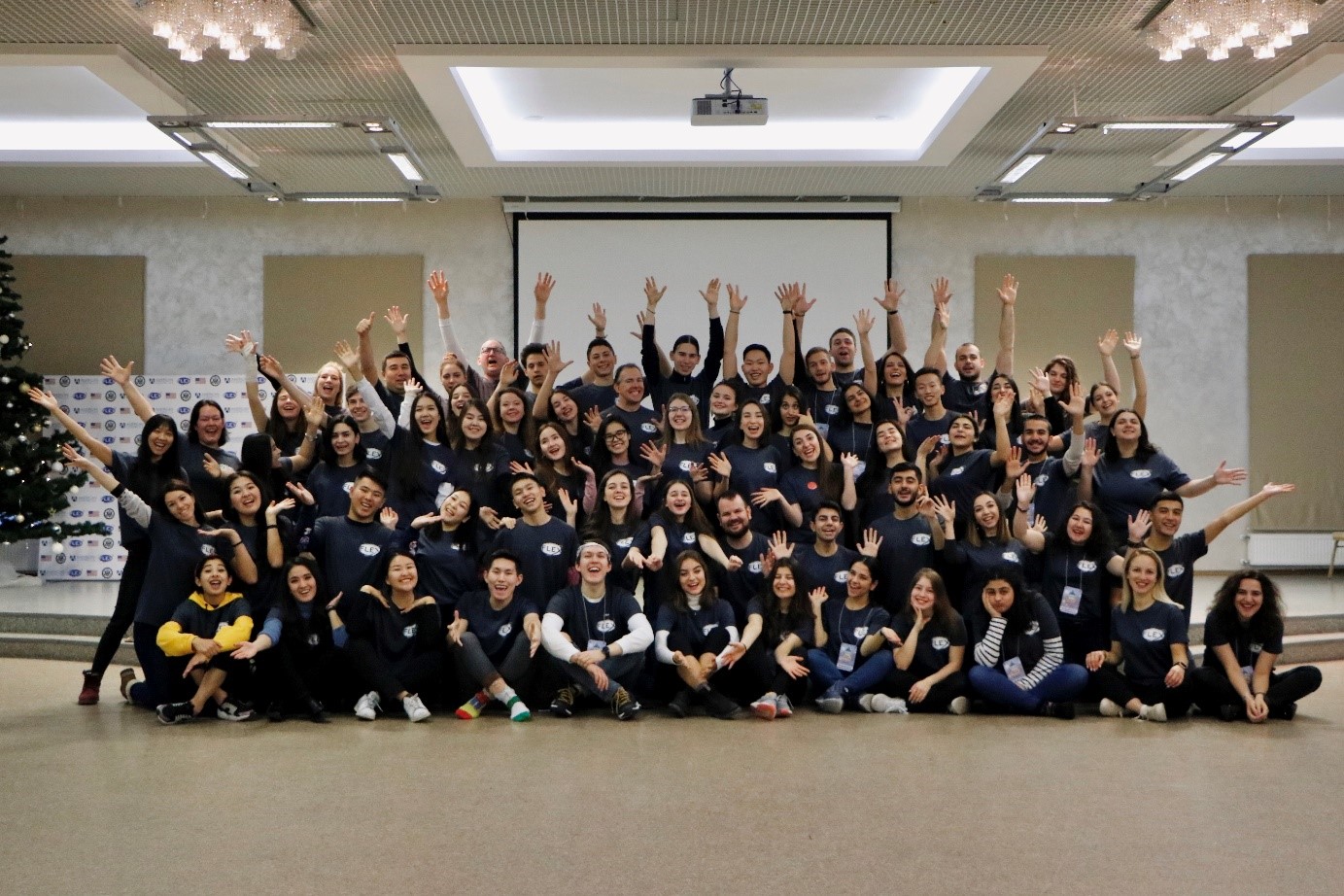 Workshop participants are required to hold a camp by September 2020, utilizing the information that they learned at the workshop, and will have access to monthly emails and a series of webinars to further discuss camp-related issues starting in 2020.  Alumni are encouraged to apply for funding through the Global Youth Service Day matching grants program, the FLEX Alumni grants program, the Alumni Engagement Innovation Fund, and U.S. Embassy grants offered in their country for funding.  As one participant noted in his final survey, "State Department and American Councils should get ready for some professional applications coming soon!"  Good luck, alumni, on your camps!