In March, Alumni Coordinator Aknur Berdigulova '14 (Karaganda, Kazakhstan/Pearland, TX) coordinated 97 alumni meet-ups with the goal of promoting participating alumni's professional and personal development through the Alumni Mentoring Games. Her secret to this successful endeavor is the Alumni Mentoring Games program she designed. The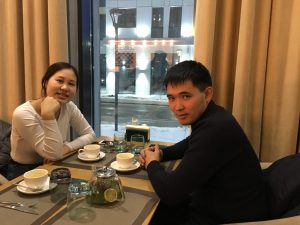 concept was simple: every week alumni participants received a new list of three mentors, mentees, or some of both. This system gave participants the chance to network with a  wide variety of alumni by serving as a mentor or mentee for up to 12 alumni in one month. The alumni coordinator generated individual weekly lists connecting people according to their interests, needs and specialization areas.
"Over the course of the four weeks of the games I spent time with twelve extraordinary mentors (yes, three – each week)! They helped me understand what I need to do to help my community, taught me about family-work-study balance, shared their experience in professional and personal life – all while meeting up with some of the most successful and bright alumni in North Kazakhstan! I cherished every meeting, as it was a chance to bond with the people I never thought I could become so close with" shares Anel Zhuvanizhbayeva '18 (Ust Kamenogorsk, Kazakhstan/Phoenix, AZ).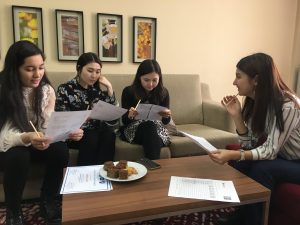 Each week alumni filled-out an online survey on their mentoring experience and the results were exceptional – mentors received the average of 9.4 rating out of 10, and mentees received an average of 9.1 out of 10. Overall, 97 (out of 120 possible) in-person meetings took place during the program, including the Mentorship Hour during the first week to assist the new mentors and mentees in their first mentoring session.
Another active participant, Aigerim Kagarmanova '10 (Ust-Kamenogorsk, Kazakhstan/Hoboken , NJ) says: "The Alumni Mentoring Games were productive and fun at the same time. I got to be in the role of both a mentor and mentee and that was a unique experience. At sessions with mentees I figured out we have a lot to learn from each other, regardless of our age. We shared our stories, successes and failures! It was truly a pleasure to be inspired by each other. Sometimes each of us can be at that place in life where one needs support, a piece of advice or simply words of encouragement."
To commemorate the end of the program, Alumni Coordinator Aknur Berdigulova '14 organized the Alumni Mentoring Games Closing Ceremony at the Hilton Garden Inn. There, alumni received their certificates of completion, provided feedback, recorded an official video and participated in a team-building training session. Based on the scores received during the weekly feedback surveys, three Mentoring nomination winners were announced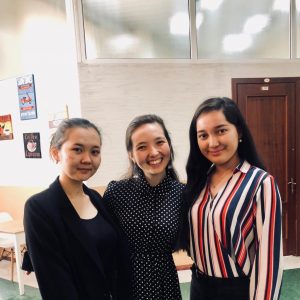 and received special FLEX sweatshirts:
Perfect Mentee – Anel Zhuvanizhbayeva '18; Extraordinary Mentor – Ainur Kagarmanova '13 (Ust-Kamenogorsk, Kazakhstan/St. Cloud, FL) Exceptional Mentor – Malika Koyanbayeva '95 (Karaganda, Kazakhstan/Blair, OK)
"The Alumni Mentoring Games were an enjoyable and memorable experience for me. I enrolled as both mentor and mentee. I learned a great deal from my mentees, and I hope that they, in turn, learned something from me. I was surprised how easy it was for me to talk with people that I haven't met before, because usually it takes me a long time to get to know a person. Turns out, if you both have a FLEX background in common, you can instantly strike a connection with another person, no matter how different you are or where you come from. All in all, I have enjoyed the Mentoring Games immensely and would be glad to do it on a regular basis," shares FLEX and Global Village alumna Dinara Bekmagambetova '10 (Atbasar, Kazakhstan/Ames, IA).
Alumni Mentoring Games!97 meetings ??‍♂️??20 alumni ??‍???‍?4 weeks ? 'The best advise I got from my mentor is – set a goal and use absolutely everything you have to achieve it'

Posted by FLEX Alumni North Kazakhstan on Sunday, April 7, 2019
The following alumni participated in the Alumni Mentoring Games:
Aknur Berdigulova '14
Aigerim Kagarmanova '10
Anel Zhuvanizhbayeva '18
Ademi Sadyk '16
Symbat Zhanybek '13
Ainur Kagarmanova '13
Zhanerke Abayeva '11
Arailym Iskakova '15
Aslan Abzhakov '02
Meruyert Yessimbekova '04
Asel Zhanbulatova '09
Dinara Bekmagambetova '10
Malika Koyanbayeva '95
Tomiris Sagidulla '17
Gulnaz Tabynbayeva '14
Daulet Mustafin '11
Akbota Seitmagambet '15
Dana Kassymbayeva '15
Assel Berdimuratova '15
Yelena Feoktistova '18 (Fulbright alumna)
Written by Aknur Berdigulova '14