Ayaulym Tursynkhanova'17 (Ust-Kamenogorsk, Kazakhstan /Beresford, SD) is both a FLEX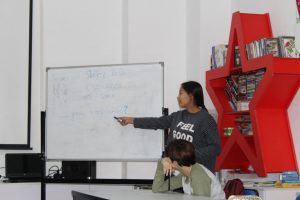 and ACCESS Program alumna. She is a former City Representative (CR) of Ust-Kamenogorsk, and, as a civic activist, uses her creativity skills to develop her hometown and engage young people in the community.   As a CR, Ayaulym implemented projects like the "Teenglish"Club at the American Corner where she taught teenagers in Ust-Kamenogorsk English and an English Movie club for  teens and adults to practice English by listening to native speakers. For her great work in her community, Ayaulym was awarded CR of the Month in January 2018.
At the end of her term, Ayaulym was invited to the 25th Anniversary of FLEX Celebration in Almaty, Kazakhstan where she received the "Excellent Junior Alumnus/a" award for her outstanding contribution to her community. She was also selected to participate in the Kazakhstan English Language Theater (KELT) workshop in Almaty, funded by the U.S. Embassy and Consulate in Kazakhstan. After she returned from this training, she decided to open a KELT club at the American Corner where citizens of Ust-Kamenogorsk can improve their acting and English skills.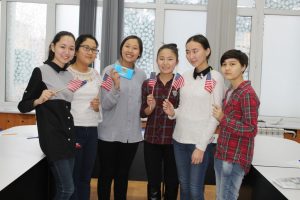 "It is truly amazing how Ayaulym is always eager to share the knowledge she receives from every opportunity with her small community," shares FLEX Alumni Coordinator Bibinur Zhamaliddenova '15. After several years of implementing projects and clubs at the American Corner, Ayaulym was hired as a Coordinator there!
"Hard work pays off! I am thankful to the U.S Department of State for every opportunity in my life, from FLEX, to ACCESS, to KELT, and now finally the American Corner!" says Ayaulym.
Written by Bibinur Zhamaliddenova '15