"Tell me and I forget. Teach me and I remember. Involve me and I learn." – Benjamin Franklin
Olena Nikitiuk '18 (Rivne,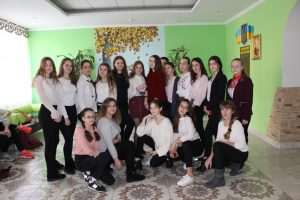 Ukraine/Silver Spring, MD), FLEX City Representative of Rivne, Ukraine was awarded a Workshop for Youth Leaders in English Teaching (WYLET) alumni grant and organized the project "English from Santa". The project took place in Rivne in late December  with the hope of helping people in her community get excited about learning English!
The first event brought together 35 people to watch an American holiday classic "Home Alone 2: Lost in New York" in English. Participants received an English vocabulary list to help them through the movie and after it was done, they  discussed American culture, as depicted in the movie.
The second event was an English Party at the Rivne Regional Scientific Boarding School.  Participants learned about American Christmas and New Year traditions through a presentation and performed skits in English.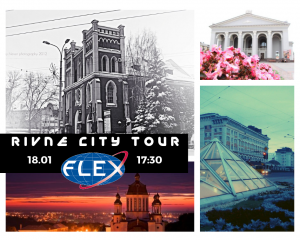 The third event was especially engaging, as it involved practical and situational learning. Participants gathered on the Rivne Central Square and took part in an English City Tour. In addition to developing their English vocabulary, participants explored the history of amber in the Rivne region, a local history museum, parks, monuments, and historical facts. In the end, participants gathered to discuss the importance of learning about history and reviewed their new vocabulary words.
Next, the English-Speaking Club, introduced new educational methods to its participants.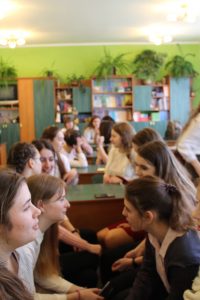 Starting with ice-breakers, participants learned new grammar constructions and improved English-speaking skills through a "speed-dating" activity.
The final event, English Games Night, was organized on the last day of January at the Window to America Center.  Teams competed at a Jeopardy-style trivia games and played Truth or Dare. In the end, everyone pretended to be a survivor in the open ocean and debated the most essential steps to survive in a dangerous situation. These games taught participants new vocabulary in a stress-free learning environment.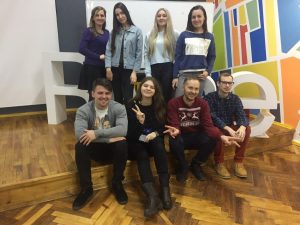 Overall, the English from Santa project gathered 111 participants who improved their English skills using non-formal educational methods and learned more about American culture and other U.S. government-funded programs, including FLEX. Olena Nikitiuk shares, "English from Santa was not just an educational project for other people; it was also a big educational experience for me. Project-management introduced me to new essential skills that aren't taught in school, expanded my network, and improved English skills as well. This is definitely an activity that I`d love to continue doing".
Written by Sophia Yakovlieva '14