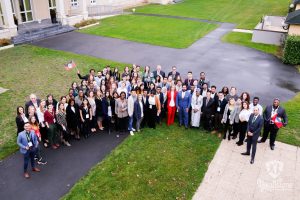 North Kazakhstan Alumni Coordinator Aknur Berdigulova '14 (Karaganda, Kazakhstan – Pearland, Texas) received a fellowship to attend the Youth Global Forum from December 2 to 6, 2018 in Paris, France. The theme of the forum, Worldwide Impact Investing: The Role of Entrepreneurs, attracted over 100 business-minded young leaders to come learn about yielding positive social and environmental impact in both nonprofit and for-profit businesses.
To Aknur, every participant at the Youth Global Forum seemed to have an aptitude for bringing about change, so when she found out that some of her fellow participants were FLEX alumnae as well, as was not surprised. FLEX alumnae Yuliya Solodovnik '10 (Kryvyi Rih, Ukraine/Grand Junction, Colorado) and Alina Pishchalnikova '06 (Abakan, Russia/ Bear, Delaware) also attended the conference, bringing their own ideas of what it means to "invest impact" into their business ventures. While Yuliya '10 focuses on urban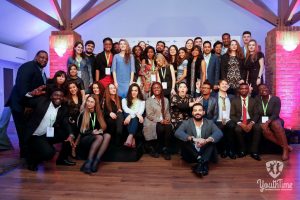 development, Alina '06 chooses to invest impact through her travel and language blog on Instagram.
Yuliya '10 said of the surprise reunion: "I was delighted to meet other FLEXers, especially given the fact that we all were from different countries and professions. I am always fascinated by the spectrum of work FLEX alumni are doing in the world! It's been almost 10 years since my FLEX experience, but I still feel goosebumps when I meet people connected to FLEX. I recognize that for the most part, we have similar values and aspirations for change for a better and just world. Knowing this fills me up with gratitude to be a part of a community of change-makers."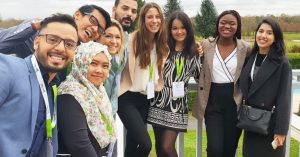 In reflecting on how the FLEX program has shaped her life, Yuliya says: "Thanks to my FLEX year, I strive to take part in activities that have a positive impact on my community. I am passionate about sustainability and, currently, I am an intern at a Swedish company called Plantagon. This is an international company that develops and operates vertical farms for industrial food production in cities. I can confidently say that my FLEX year empowered me to think outside the box and dare to jump into careers that are not very common."
Interested in pursuing opportunities like the Youth Global Forum? Check out the website Youth Opportunities for which Aknur is a Country Representative!
Written by Aknur Berdigulova '14