During her FLEX exchange year, Karina Ibragimova '14 (Aktobe, Kazakhstan/ Cogan Station, PA) was
surprised by the variety of classes offered at her American school. She felt that the not-so-traditional-academic classes she took contributed greatly to her personal development, and she wanted to offer her peers in Kazakhstan the same experience. "Not many schools in Kazakhstan offer such workshops to students", noted Karina, " and I feel that it leads to students not realizing their potential or leaving school with a limited scope of the possibilities of future career choices."
The goal of the camp was to offer young people trainings that would help them to 'pull themselves up', or "improve their situation by their own efforts," says Karina.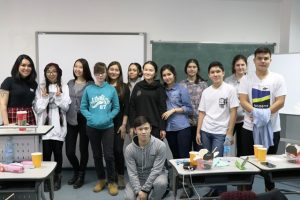 'Pull Yourself Up by Your Bootstraps' Boot Camp was an intensive program for high school students that took place in February 2018 in Almaty, Kazakhstan. Participants were chosen through an application process that involved answering essay questions regarding leadership, volunteering, and ecological conscientiousness. Through activities, a group of 15 students improved soft and technical skills and expand their knowledge through a variety of activities ranging from team building activities, and strategic business games to debates and  group social projects. The camp has three main themes:
1) Exploring new and innovative professions, such as 3D-Technologies, Marketing and Branding, Cinematography, and Environmental Engineering:   Zhanna Tsoy '11 (Almaty Oblast, Kazakhstan/ Tulare, CA),  coordinator of the Go Viral project of the U.S. Consulate in  Almaty and recipient of a Masters in Digital Technologies,  and Kristina Udartseva '12 (Astana, Kazakhstan/ West Townshend, VT),  an employee of Kazakhstan-Air Astana in the  Marketing and Branding Department led technical sessions with the participants to teach them about innovative professions in Kazakhstan.
2) Learning about Ecology and Sustainable Development:  During the camp, students attended various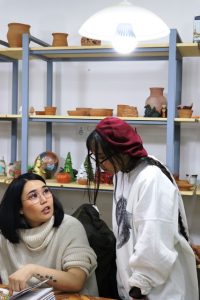 ecological fairs, visited a sustainable farm, and learned how to correctly sort recycling during a service project.
3) Extracurricular Activities:  To experience a plethora of activities through which students could express themselves, Karina and other FLEX alumni organized classes for students including  drama classes, photography, sporting events, culinary classes, and art classes.
Diana Petrash, a boot camp participant in 10th grade, said: "I received such joy and inspiration by participating in this project. It was nice to find such a special platform where you could share and learn a lot of new things. Each event, lecture, and  theme was chosen very well. I am very grateful for this opportunity."
'The Pull Yourself Up by your Bootstraps' Boot Camp was funded in part by the FLEX Alumni Grants Program.
Written by Bibinur Zhamaliddenova '15