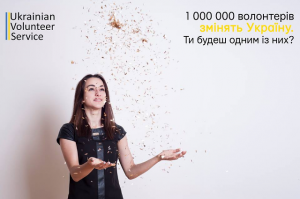 The FLEX Program impresses upon its participants the importance of volunteering and community service. After one year in the U.S., Anna Bondarenko '12 (Odesa, Ukraine/Jamestown, CA) and Mariia Donets '15 (Odesa, Ukraine/Clear Lake, IA) started actively promoting volunteerism in their hometown Odesa. In 2017, the pair founded the Ukrainian Volunteer Service, a non-profit organization aimed to increase the number of citizens volunteering in Ukraine.
The organization sprouted from the Hub Volunteer Service, a volunteering movement that engaged over 1500 Odesa youth in  volunteer projects out of Impact Hub Odessa. Today, the Ukrainian Volunteer Service extends this project and its goals to cities across Ukraine.
Co-founder Mariia Donets '15  says that, "The mission of the Ukrainian Volunteer Service is 'volunteering for everyone'. Volunteering helps to unveil hidden potential, meet people from different fields and backgrounds, and make a difference in society.  We believe that everyone deserves such an opportunity."
The goal of the Ukrainian Volunteer Service is to develop a network of over a million volunteers in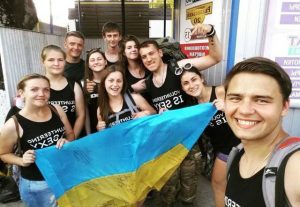 Ukraine.  The FLEX-alumni organizers believe that even one person can make a big difference in the community, so imagine what difference 1 million people can make!
The Ukrainian Volunteer Service promotes volunteerism by carrying out campaigns and holding various  activities to show that everyone can volunteer. In December, the Ukrainian Volunteer Service in cooperation with UN Volunteers in Ukraine, GoGlobal, AIESEC, and the FLEX Alumni community in Ukraine organized educational events for children and youth celebrating the International Day of Volunteering.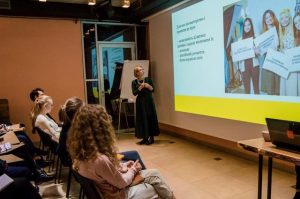 The Ukrainian Volunteer Service unites people around creating solutions to social, educational, and cultural problems. Yet the founders believe the most important facet of the Ukrainian Volunteer Service is their work with youth. Anna and Mariia recently developed a project, School Lesson of Volunteering, to encourage students to become change-makers and leaders. The project involved 75 lessons for high school students and 35 speakers representing social activists, volunteers, and leaders. School Lesson of Volunteering spanned across three cities: Odesa, Lviv, and Kyiv, teaching over 800 high school students how they can become active in their communities and make positive change.
The Ukrainian Volunteer Service is a place where volunteers, NGOs, businesses, and the government cross paths. The organization is on its way to developing a widespread volunteering movement in Ukraine and provides the opportunity for everyone to be a part of the positive changes that volunteering can produce in Ukraine.
"The FLEX Program gave us many opportunities and became a platform for our personal and professional growth.  The results of this you can see in the creation of the NGO Ukrainian Volunteer Service," adds Mariia.
Written by Yuliia Vavryshchuk '12