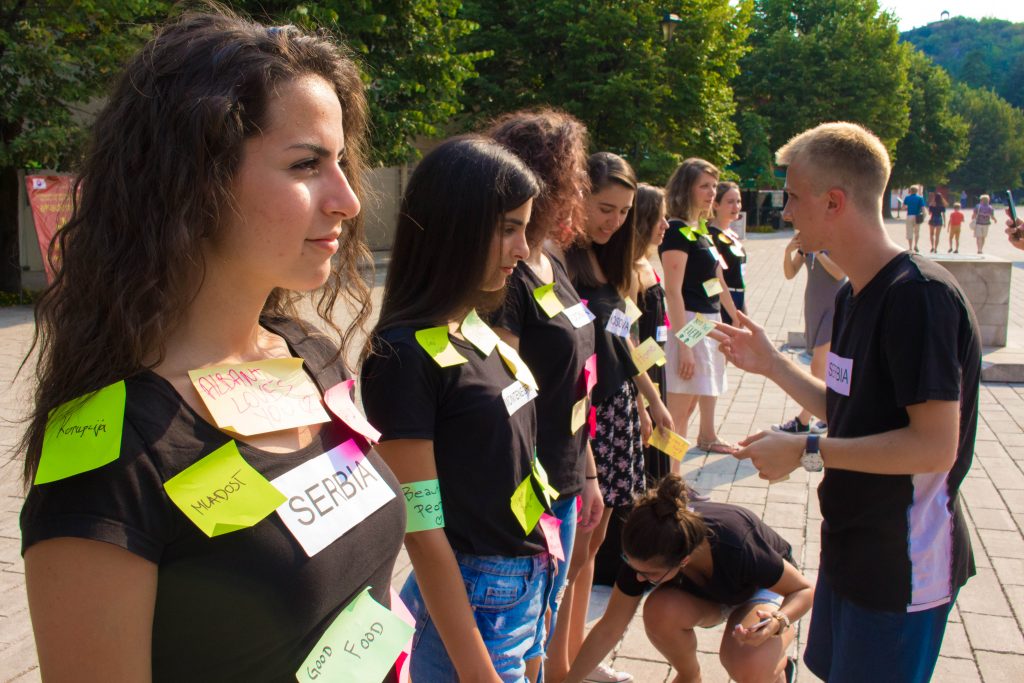 ---
Event Title: The IDEAL Workshop: Identify challenges; Develop a better understanding; Establish plans; Act; Lead by example
Event Dates: February 28-March 4, 2018 (participants may arrive home on March 5, depending on the length of travel)
Event Location: Near Prishtina, Kosovo
Application Deadline: December 24, 2017
Participating Countries: Montenegro and Serbia, as well as YES countries Albania, Bosnia and Herzegovina, Bulgaria, Kosovo, and Macedonia (FLEX alumni living in these countries are also eligible to apply)
---
Through the IDEAL Workshop program, FLEX (A-SMYLE) and YES alumni from Southeast Europe will learn to address needs they have identified in their communities through arts, sports, storytelling and social media, or debate and public speaking, all while building cross-border relationships and foundations for regional cooperation. 
The IDEAL Workshop program will begin with two virtual meetings in January and February 2018, through which program mentors and American Councils staff will help participants prepare to conduct and then analyze assessments of community needs.
During the workshop itself, participants will have the opportunity to develop plans for addressing the needs they identified through one of the following approaches: arts, sports, storytelling and social media, or debate and public speaking.  Sessions will be both practical and collaborative, utilizing a "training of trainers" approach that will prepare participants to not only utilize the method they are exploring, but effectively share their knowledge and skills with others after the conclusion of the workshop.
Each theme group will be led by a pair of qualified mentors who are themselves alumni of YES, FLEX, or another U.S. government-sponsored exchange program, or who are currently in the region through a U.S. government-sponsored program, such as Peace Corps or Fulbright.  Site visits to relevant local organizations and institutions, guided by mentors and American Councils staff, will provide participants with the opportunity to explore additional perspectives and approaches related to their theme area.
Participants will also receive training from YES and FLEX Alumni Coordinators throughout the workshop in basic project design and management.  Alumni will have the opportunity to test these skills and their chosen approach by preparing a community service activity related to their theme for a local community audience in Prishtina, and through developing individual plans for post-workshop activities and proposals for grant funding.
Following the workshop, each participant will be required to hold at least one activity that expands the impact of the program to his/her community, with support of up to $250 in grant funding.  Alumni may work in groups to combine awards for a larger project.  Participants are encouraged to consider projects that address priorities identified by local U.S. Embassies, including elements that share American culture and their exchange experiences.
Who can participate in this workshop?
All alumni of the FLEX (A-SMYLE) and YES programs from and/or currently living in Albania, Bosnia & Herzegovina, Bulgaria, Kosovo, Macedonia, Montenegro, and Serbia are eligible to apply.
Workshop participants are expected to have a sincere commitment to identifying and addressing true community needs, and a strong interest in developing their ability to address these needs through one of the following approaches:
– arts
– sports
– storytelling and social media
– debate and public speaking
The program is designed for individuals with little or no background or experience in the selected approach.  Preference will be given to those alumni who fit this description.
What are the costs?
There is no participation fee associated with this event.  Round-trip transportation from an appropriate international hub (ex. Tirana, Skopje) to the venue, as well as room and board, will be covered by a combination of grants from U.S. Embassies and FLEX/YES alumni program funds.  Participants will be responsible for covering any and all costs related to travel between their hometowns and an appropriate international hub.
For participants from Bosnia and Herzegovina, travel to and from Zagreb for obtaining a visa will be required and organized by American Councils, and related costs will be covered by the program.
How do I apply?
Interested alumni must complete and submit this online application, including all supporting documents requested, by December 24, 2017.
For questions, contact Rebecca Strattan at rebecca@americancouncilssee.org.