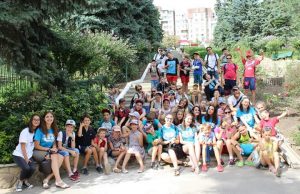 Every single child is unique, and our approach is, too.
FLEX alumni in Moldova filled their summer preparing for the Game On Summer Camp.  This, now, annual event brought together 42 children to develop their English language skills as they supported each other in their personal development and leadership.   The camp is funded in part by the FLEX Alumni grants program and a grant from the U.S. Embassy in Chisinau.  Three generations of FLEX alumni, led by Nicu Gaibu '12 and Inga Daranuta '13 made the camp a success!

The camp took place on 15th_25th of August at Dacia Marin base in Vadul Lui Voda. Organizers led the camp in this way – by providing individualized approaches to education and integrating children of different ages and background into classroom discussions and methodologies, every single student leaves the classroom better and smarter. The bedrock of the classrooms was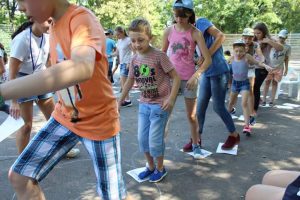 acceptance and non-judgement.  Each child had fun and gained life-changing values and practical qualities through the ten-day camp.  The fact that they enlarged their worldview and improved their English and social skills, that was just a cherry on top of the amazing camp experience.  Victoria Lungu '13, the monitor of the PowerPuff Girls team at Game On Camp shared that, "…working with kids is always challenging. You need to put their needs above yours and they seek for your attention 24/24. But, the love and affection I got from being with these kids during the 10 days paid off all the hard work. I felt like a child again! It was incredible to meet these kids and learn from them."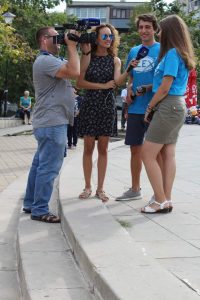 Game On Camp focused heavily on bringing together participants with diverse cultural, geographical, social, and educational backgrounds.  And students who did not have as many opportunities in the past were encouraged to apply.  Once at the camp, students were put in mixed groups to be sure that campers of different ages, genders, nationalities, and languages spoked at home were grouped together.  Volunteer Sorin Golovatic, the monitor of the Dragons team said that, "It was amazing to see the difference between the first and last day of the camp and the development of the kids and how they interacted with each other."
The goal of the camp was to show different approaches to education, and each day was dedicated to a subject that the children usually study at school.  But, organizers added twists to the activities!  English classes were combines with drama clubs and math classes included quests.  Campers left the camp excited about learning and provided comments like, "This camp was the best!"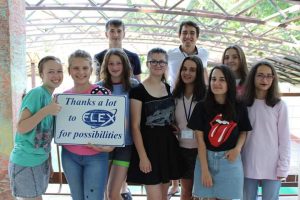 This project was a successful because of the wonderful partnerships that were formed in developing and executing it.  Game On Camp organizers would like to thank, the U.S. Embassy in Chisinau and the U.S. Department of State through its funding of the FLEX Alumni Grants program for the financial support of the project; camp collaborators including, Ana Indoitu '11 for presenting the Diamond Challenge Competition, Representative of the Energy and Biomass Project Lina Acalugaritei who spoke to students about sustainable and renewable energy sources, Psychologist Viorica Mocanu who presented on civic education and social responsibility, Actor Eduard Cernat who taught a class on body language and effective communication, Teacher Ala Chirvas who gave students an imaginary tour throughout the history of mankind, English teacher Nadejda Botnaru who assisted with the English club activities and methodology, and campfire song leader Artiom Ceban; and the American Language Center and Creative Development Association for their support with supplies and the Media Production and local TV Channel JurnalTV for monitoring and program promotional tools.
All involved in this project benefited from it in one way or another.  Organizers hope to continue the camp next year, because GAME ON must GO ON.
Written by Inga Daranuta '13