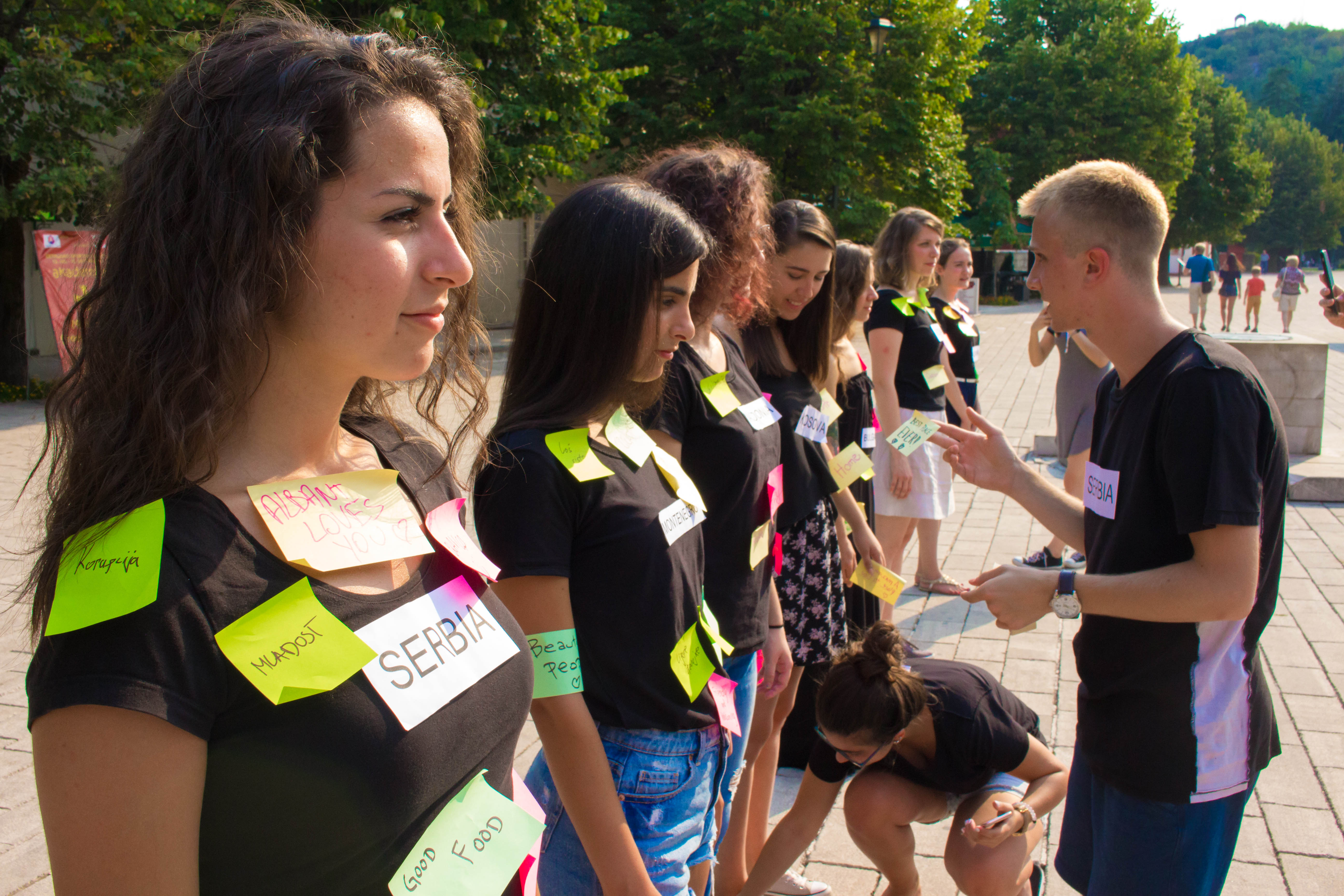 From August 3-6, 2017, 52 alumni of U.S.-government sponsored exchange programs gathered in Cetinje, Montenegro, for the IDEAL Workshop, where they learned to identify challenges facing their communities; develop a better understanding of these challenges, including their root causes and possible solutions; establish plans for addressing the challenges; act on these plans; and ultimately lead by example.  At the core of the program were 41 FLEX and YES alumni participants from Albania, Bosnia and Herzegovina, Bulgaria, Kosovo, Macedonia, Montenegro, and Serbia, who worked closely with a team of mentors that included senior alumni of the FLEX, YES, Fulbright, Global Undergraduate Exchange, Transformational Leadership, Serbia Youth Leadership, and Business Exchange programs, as well as a current Peace Corps volunteer and American Councils staff.  The event began with opening remarks and a discussion with Deputy Chief of Mission B. Bix Aliu of the U.S. Embassy in Podgorica.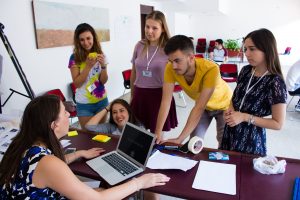 Throughout the workshop, participants were divided into four groups, with each group focusing on one of four theme areas identified through alumni surveys as of greatest concern and interest to alumni: anti-corruption, civil society, human rights and gender equality, and utilizing the arts as tools for social change. Theme-oriented sessions led by program mentors were woven together with sessions focused on project implementation skills led by FLEX and YES Alumni Coordinators.  All sessions were practical and collaborative, allowing participants to reflect, share, and truly explore content, rather than simply absorbing the perspectives of experts.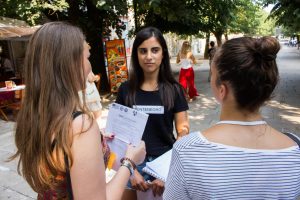 A key element of the IDEAL Workshop program, and something that received the most positive response from participants, was multiple opportunities for participants to share and utilize what they were learning as they were learning it.  Every day, participants gathered at meals with peers and mentors from across the region and continued debates and discussions that had begun in their theme groups.  Every evening, participants divided into country groups to share a bit about what they had learned in their theme groups and discuss ideas for in-country collaboration.  On the second day of the workshop, alumni had the opportunity to engage with local organizations, institutions, and guest speakers, including the State Prosecutor's Office in Cetinje, local NGO Aktivna Zona, the head curator of local art gallery Atelje Dado, and Montenegro's Advisor to the President on Human Rights and Minority Rights.  On the third day of the workshop, alumni designed and implemented their own community activities, which included surveys of local citizens on issues related to human rights and corruption, as well as a public performance that drew attention to the dangers and peculiarities of nationalism.  On the fourth day, participants broke into four small groups consisting of participants from each theme group to share and discuss what they had learned.
"I felt like I was doing something meaningful and the results of it could lead to a change," wrote one participant from the human rights and gender equality theme group, reflecting on the interviews conducted in the local community.  "I became aware of the fact that human rights and equality are being seriously neglected even in my country, much more than I thought," wrote another participant.  "I learned about practical ways to change [the prevalence of these issues] and I will start as soon as I return."
Participants also spent time throughout the workshop developing individual plans for post-workshop activities and related proposals for funding.  "Since we had to come up with our own project, it increased the level of analytical thinking," a participant from the civil society theme group observed.  These plans were showcased on the final day of the workshop in a gallery of posters created by participants, where it became obvious how much each theme group had influenced the others.  Most projects incorporated approaches or issues from two or more of the theme areas.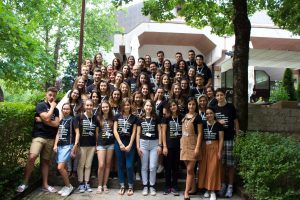 What stood out most throughout the workshop and in post-workshop evaluations was the impact that bringing together participants and mentors from across the region had on participants' perspectives on both their project ideas and one another.  "[Regional workshops] are quite valuable because you get your worldview and values challenged," one participant from the utilizing arts for social change theme group observed.  "You see how other cultures react to and solve the problems you're facing in your home country."  A participant from the civil society group reflected, "[this workshop] helped me build many important connections and networks.  I found a lot of friends who have done similar projects to my ideas, and they will help me with advice in the future."  A participant from the anti-corruption group shared, "I loved working with other alumni from the region.  Regional workshops really help us see how connected we all truly are and that we should move away from destructive rhetoric, because we are all facing the same issues…  Seeing so many people have the same views as I do really gives me hope for the future of this region and motivates me to work harder and better!"  A participant from the human rights and gender equality group wrote, "It was amazing to work with people from other countries, to hear different stands and points of view.  It really made me think harder about certain topics.  It was great that everyone was so supportive, no matter where they were from."
This workshop was supported by the FLEX and YES programs, as well as the U.S. Embassies in Prishtina, Skopje, and Sofia.  Each workshop participant will be required to implement at least one educational program or related initiative to share the knowledge and skills gained through this workshop in his/her community, and will be eligible to receive grant funding to support post-workshop projects.