Football leagues have the Champions Cup, athletes have Olympic Games, and FLEX alumni from Montenegro and Serbia have their annual Global Youth Service Day (GYSD) event at the Old Village Open Air Museum in Sirogojno, Serbia. It is more than an event; it is the highlight of the year, where alumni finally get a chance to build upon those FLEX friendships and make long lasting connections.Putting 20 of the most active alumni in one place for 4 days, equals the perfect recipe. The combination of workshops and volunteering hours, all set in the rustic atmosphere of an old Serbian village, made a lasting impression. Alumni went back home with concrete skills and usable experiences.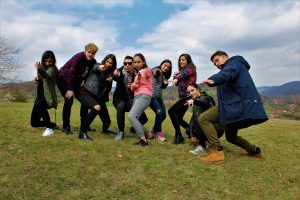 "Going to Sirogojno was a perfect balance between hard work and fun. It was helpful to get such specific feedback and skills in certain areas through workshops and conversations we had an opportunity to initiate. It was very fulfilling to be able to volunteer and give back to such a great place while making strong bonds with the people around me." – Klaudija Abat '16 
From April 6 to 9, alumni focused on protecting the museum environment, including painting lyme on trees to insulate them from insects, pruning trees, and removing fallen pine needles and other debris from the soil. Workshops were organized in between, focusing on interviewing skills, first aid, public presentation and speaking, opportunities for alumni, and welcoming new alumni to the community. If there was one thing people could take away, except having a good time of course, it would most definitely be motivation to continue being active, and keep changing their communities. Alumni worked hard to prepare for Sirogojno, collecting important information about their project and possible difficulties to be shared during the sessions. Just like the real companies, they would find strengths, weaknesses, opportunities and threats and analyze each of those aspects. Moreover what this achieved is creating back up plans and strategies for each of those plans, thus creating a solid, fail proof plan for the worst case scenarios.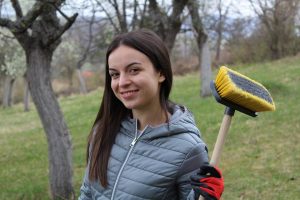 To top everything off, the annual Welcome Video created by alumni from both countries for the newest generation of FLEX alumni was nothing short of brilliant. The creative team behind it, Nemanja Miltenovic '13 and Nikola Milenkovic '16, gave their best to capture the feeling and emotions that were present during the conference. With the tune of Justin Timberlake's "Can't Stop the Feeling," alumni welcome the 2017 FLEX generation in style.
One of the most important workshops was focused around the GYSD projects planned by each participant. Everyone shared their goals and motivation behind their engagement to make their communities better, and based off the feedback they received from the group, they were able to pivot the little things resulting in projects with a larger impact and with better outreach and stronger ties created in the process. All alumni left the Sirogojno Workshop committed to making their GYSD and community projects better, and giving 100% to achieve their goals. In the end, it was really a motivation boost and a great resource platform for alumni to use in their future careers, as the networking also played a big role.
"This really helped my organizational skills, and general planning. I strongly believe this is a must-attend event for everyone looking to work on themselves and finding numerous approaches to make their projects work." – Marija Djigic '15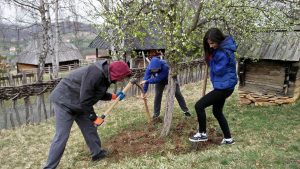 And as this project shines on the GYSD map, alumni really know its true meaning. They will transfer this mindset to others in their communities, creating a domino effect. And as the saying goes: "True friends never part, maybe in distance but never in heart."
Article by Nemanja Ostojic '12, Alumni Coordinator for Montenegro.