FLEX and YES alumni took on the Global Youth Service Day (GYSD) challenge this spring – organizing events in their communities and working with peers to open their eyes to ways that youth can make a difference in community building. Hundreds of FLEX and YES alumni implement over 85 community service projects as part of the Global Youth Service Day initiative weekend on April 21-23 2017. Alumni during GYSD do more than just organize events and highlight how they, the young leaders of their community step up to the challenges they see in their communities, they also recruit the next generation of volunteers. Below are six of the many FLEX and YES alumni-led projects organized in celebration of Global Youth Service Day:
1) Be Safe Not Sorry by Marianna Ghazaryan '16 (Yerevan, Armenia – Vilonia, AR):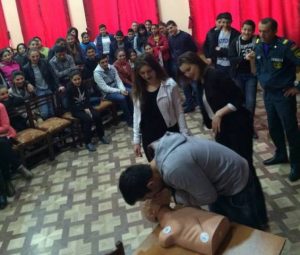 Marianna and fellow alumna Anahit Ghazaryan '15 organized a seminar to raise awareness about gas leaks and poisoning in Armenia.  Sessions were led by speakers from the Ministry of Emergency Situations and the Norkh-Marash Medical Center, who taught participants how to avoid and protect themselves from gas poisoning and basic first aid treatment in case of a gas emergency. The training involved 90 direct beneficiaries and was hosted by the Qaghsi Village School in Central Armenia. Principal of the Qaghsi School Mr. Melkonyan said, "Now our students know how important it is to be careful while using gas. The examples that the trainers gave event touched me!"
2) 2017 Youth Career Fair by Eduarda Fedyukova '16 (Mykolayiv, Ukraine – West Des Moines, IA):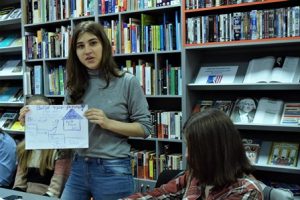 Fifty-seven community members, adults and youth alike, attended a two-day career fair and professional skills seminar.  Participants took part in 12 professional skills sessions, including trainings on interview skills, CV writing, and media literacy.  Teams of trainers also held sessions introducing participants to different job fields, including careers in STEM.  Sandy Bowman, Eduarda's host mother was a part of the workshop, where she shared information about chiropractic care in the U.S., a rare profession in Ukraine. Sandy and Eduarda created a video to show participants what chiropractic care looks like.  After watching the video at the Mykolaiv Window on America Center, participants asked Sandy questions over Skype about her profession.  Participants left the workshop feeling confident about skills needed to take part in job interviews and many shared with project organizers that they sent their resumes to the leading companies in Mykolayiv after the event.  Participant Julia noted, "Before attending the 2017 Youth Career Fair, I did not know where to start with my search for a part-time job.  I felt overwhelmed by the concepts I found on the Internet. The event gave me new knowledge about areas in which I can develop and skills that will be valuable during the interview process."
3) Food Raising by Gentian Kuquca '16 (Klina, Kosovo – Ashville, OH):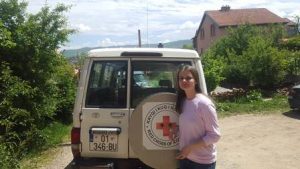 YES alumni held a charity concert where community members donated nonperishable food in place of paying for concert tickets.  Sixty community members listened to DJ TERMOKISS, a well-known local DJ at the M Club.  The DJ offered his jams for free and the donations, which included over 25 liters of cooking oil, 30 packs of flour, rice, and pasta will be donated to the Pristina Red Cross and given to eight families in need.  Dite Gashi '10, who attended the event noted, "This was a great idea, and I am glad that I am spending my Sunday having fun, and also helping the poor."
4) Nothing is Impossible by Timur Amanbekov '14 (Almaty, Kazakhstan – Webb City, MO):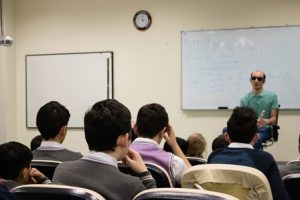 FLEX alumni organized an event where 34 children with visual disabilities met with Anuar Akhmetov, professional swimmer and the member of National Paralympic Team of Kazakhstan. Anuar shared his story and explained to the children how he motivates himself to get in the pool and train every day.  Next, Ziyat Abdykaimov, a representative of Nazarbayev University, the host of the venue, spoke about inclusive education in Kazakhstan and gave participants advice about choosing a suitable university. In addition to learning about the admission process to enter Nazarbayev University, participants also learned how to participate in FLEX.
5) Good Health Results in a Smile by Kostic Milica '13 (Leskovac, Serbia – Wittenberg, WI):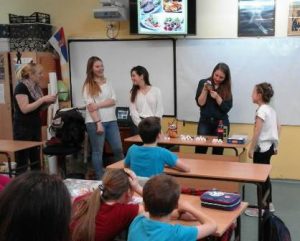 On May 26-27, at the Sonja Marinkovic Elementary School, all of the students in 4th grade classes attended sessions on healthy lifestyle, including presentations on healthy eating habits and the importance of exercise. Milica Kostic '13 and nutritionist Milena Stojanovic shared information about healthy food and nutritional needs.  Maja Brkljac '13 also presented, focusing on sugar and its harmful effects on a person's diet.  Following the presentations, Marko Vignjevic '14, Marija Srejic '14, Djordje Spasic '15, and Ema Kaplani '15 spoke about the importance of physical activity and then played American football and basketball with the children.  School teacher Olga Brdar noted, "The kids were fascinated with the workshop; almost all of them brought a healthy snack to school the next day. The teachers were amazed too with the presentation skills of the alumni and the influence you had on the kids!"
6) Empowering Art by Zhamilia Klycheva '13 (Balykchy, Kyrgyzstan – Goffstown, NH):
The American University of Central Asia (AUCA) and FLEX alumni teamed up to promote art and empower young women  in Kyrgyzstan by  holding art classes with young girls and putting their art on display at an exhibition.  Alumni who study architecture held 10 art classes for children from three local orphanages.  Through the classes, alumni taught more than painting, they also talked about women in art, encouraging the young girls to see themselves as leaders and contributors to their communities.  The participants also visited a local art museum, discovering Kyrgyz artists. The best 30 pieces of art were added to an art exhibition at AUCA based on the theme of Culture, Morale and Upbringing. Painting, applied arts, and wood works were displayed at the exhibition and representatives from the Ministry of Culture of the Kyrgyz Republic along with media sources – KTRK National TV and AUCA TV attended and covered the event.  Even now, FLEX alumni volunteers are continuing the classes at the orphanages and plan to make this a long-term project, with bi-annual master classes to continue quenching the children's thirst for art.