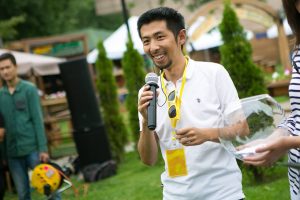 Notes from the Author – FLEX alumna Tatyana Movshevich '04 (Dzerzhinsk, Russia/Blandon, PA):  Not long ago I attended the City Nomads exhibition at the British Council in London. The exhibition was dedicated to the unique identity of Kazakhstan's cities and featured crafts and clothes of local designers. The name of one designer, Sergey Sek, whose classically beautiful leather wallets and phone cases were showcased at the event, seemed familiar. When I got home I checked my work calendar and understood the reason. I had just scheduled a Skype call with a FLEX alumnus from Kazakhstan with the same name. Only in my notes he was listed as a conference organizer rather than a designer. Yet it was the same person.
During our interview Sergey Sek '04 told me how from an anxious teenager growing up in Kazakhstan's most dangerous city he turned into a successful businessman, philanthropist, and an adventurer.
Sergey Sek '04 (World Link)
Taraz, Kazakhstan / Burley, Idaho
Education: BA in Business Law and Marketing from the American University of Central Asia
'I didn't expect to win the FLEX contest. I didn't have very good grades and went to the competition just to skip school. But, to my great surprise, I passed all of the rounds and was then selected as a finalist,' says Sergey.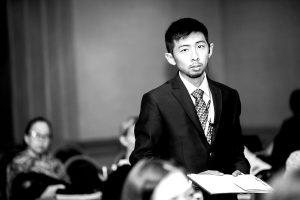 When arriving in Idaho he was surprised by how peaceful his new environment was. 'It couldn't be more different from my native town Jambul (now called Taraz), which in the early 2000s had one of the highest crime rates in the country.  Street violence was so common that I often walked to school carrying sticks to protect myself. By contract, in Idaho people didn't have fences. Once my American friend told me: 'Stop by my house this evening. If no one is at home, just walk in – we don't lock our door'. I thought he was joking'.
After a year in the U.S., Sergey came home as a different person – he felt much more self-confident. 'The feeling of safety in Idaho changed my state of mind. I realized that things could be different for me and decided to become an entrepreneur'.
The FLEX alumnus then went on to study Law and Marketing at the American University of Central Asia in Bishkek and developed his first business projects alongside his studies. He began to work as a marketing consultant after the third year of university and, despite his young age, attracted a number of important clients. One of them was the Ministry of Finance of Kyrgyzstan.
'At the time, the Ministry was developing Kyrgyzstan's brand with the aim of attracting more tourists. They asked for my help.  They couldn't pay me, so we signed a one-dollar contract. This contract gave me rights to all intellectual property developed by the brand in the future. Sadly, the Second Kyrgyz Revolution began shortly afterwards and our project came to an end,' shares Sergey.
After a number of years spent in Bishkek and St. Petersburg, where Sergey continued working as a marketing consultant, he returned to his native Kazakhstan and settled in Almaty. Six years in, he now leads two successful businesses and a social project. His main responsibility in all his projects is strategic planning and process management.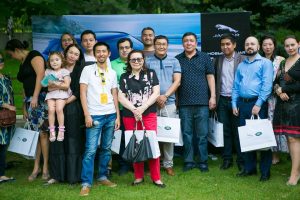 His main business entitled Lincoln Conferences is the leading conference organizer in Kazakhstan that specializes in legal and financial events. 'This business is doing well because the product that we are offering is unique. We are the only organizer of legal events in the country and that makes us even more motivated to offer high quality,' notes Sergey.
Besides Lincoln Conferences he is also running a design studio with an expressive name 'Furious Squid'. The firm creates logos and designs for businesses and NGOs advertising their services on Facebook. One of their products is the FLEX Alumni Website – the Bradley Herald's logo which the FLEX alumnus developed following the website's call for designs.  And, on top of that, Sergey also creates his own leather accessories under the brand name Lincoln.  The quality and design are so good, that a few of them are showcased at international design exhibitions, including the one in London.
Regarding his social project, every weekday of the year 100 Almaty residents benefit from Sergey's current project, which is a service that provides free hot lunches to people in need. Prepared and distributed by a local cafe and sponsored primarily by individuals, these lunches are given to people on a first-come, first-served basis. One meal costs one dollar to make and Sergey pays for one day a month out of his own pocket.
When asked why he decided to establish this service, the FLEX alumnus shrugs his shoulders: 'I'm not a sentimental man and I haven't done many charity projects. For some reason there are no services offering free food to socially disadvantaged people in Kazakhstan, and yet there are quite a few hungry people, especially among the elder generation, who spend most of their time worrying about the next meal. With this service I wanted to take some of the pressure off them'.
Sergey's plan is to expand the service not only to other cities in Kazakhstan, but to countries across Eurasia.  'We are ready to share our business model with whoever is keen to invest time and effort into it. Depending on a situation, we might even be able to provide some financial support,' he says. If you would like to develop this initiative in your hometown or simply hear more about it, feel free to email Sergey on sergeysek@gmail.com.
As a brilliant strategist, Sergey is now developing a web-platform for all social projects in Kazakhstan, through which companies, NGOs, and individuals will be able to network and lead joint initiatives. The website called dobro.kz ('dobro' meaning kindness) will also have a page for disaster response: 'At the moment there isn't any emergency relief structure in place in Kazakhstan.  During a recent flooding in the city of Karaganda many people wanted to help, but it was very difficult to organize the process. Our platform will provide such an opportunity. It will be launched in the summer of 2017 and we're really looking forward to it'.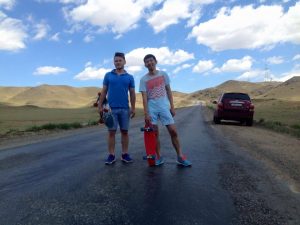 Sergey is very excited about this summer for a completely different reason as well. In a few months he will leave Kazakhstan and travel around the world for four years. He will run his businesses and social projects remotely and will also train as a professional surfer.
'Becoming a surfer and seeing the world are two of my long-term dreams. I'll first go to Sri Lanka, then to New Zealand and then wherever the road takes me,' he says. 'My biggest personal achievement is finding peace of mind. Previously I thought that life was all about struggling, making money and competing. Since then I've realized that living in harmony with yourself and doing things that you love is much more important'.
His advice to the FLEX alumni community is tightly connected with his life philosophy: 'The FLEX program gave you an incredible experience and made you re-evaluate a lot of things. Just by being a FLEX alumnus/a, you already have so much – skills, motivation, and opportunities. Use them to achieve great things and try everything that life puts on your plate. But don't forget to be happy as well'.
Article written by Tatyana Movshevich