American Councils for International Education is pleased to announce the annual Global Youth Service Day (GYSD) Matching Grants program for FLEX and YES alumni. The GYSD Matching Grants program is funded by the Bureau of Educational and Cultural Affairs (ECA) of the United States Department of State.
Groups of FLEX and YES alumni are invited to apply for matching funds of up to $500 to implement local community service projects as part of the Global Youth Service Day initiative weekend: April 21-23 2017.
In order to receive funding, alumni must conduct local fundraising efforts to secure contributions from other donors. Those funds must be matched on a dollar-to-dollar basis.
Example: If an alumnus raised funds of 298$ or receives cost share/in-kind contribution of the same amount, he may request up to 298$ for his project from the GYSD Grant Program.  The grant program will not offer funding that exceeds $500, even if alumni raise funds that exceed $500.
Global Youth Service Day (GYSD) is an annual international event that:
Mobilizes youth and adults to identify and address the needs of their communities through service; 
Recruits the next generation of volunteers;
Educates the public about the role of young people as community leaders by highlighting the contributions they make to their communities year-round.
Eligibility: In order to participate in this program, alumni must:
Be successful participants of the FLEX or YES program from following counties: Albania, Armenia, Bosnia and Herzegovina, Bulgaria, Georgia, Kazakhstan, Kosovo, Kyrgyzstan, Macedonia, Moldova, Montenegro, Senegal, Serbia, Tajikistan and Ukraine.

Be in compliance with the two-year home residency requirement following the program;

Update their information in the alumni database, which may be done at any American Councils office or electronically by following this link.
Choose a Cause: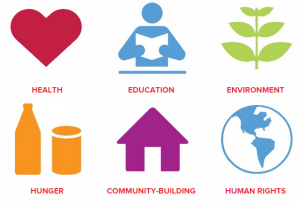 GYSD Grants Timeline:
Applications Available – December 15, 2016

Applications Due – February 1, 2017

Notification – Early March, 2017

Funds Transferred – March, 2017

Global Youth Service Day Weekend: April 21-23, 2017

Reports Submitted May 31, 2017
The application deadline is Wednesday February 1, 2017 11:59 PM Eastern Time.
To learn more about the GYSD grant projects awarded in 2016 click here.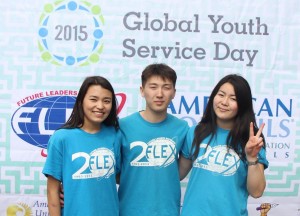 For more information contact the FLEX Alumni Coordinator in your country/ region or email flexalumni@americancouncils.org. Proposals may be funded in part.  American Councils may request that applicants modify their budgets in order to accommodate partial funding.
Please note that the GYSD Grant program will not fund the purchases of computer equipment,  durable goods, computer equipment, construction materials, alumni salaries, alcohol, and political activity.
Learn more about Global Youth Service Day at www.GYSD.org and at www.YSA.org