FLEX Alumni City Representatives in Kherson, Ukraine Borys Lesyk '16 together with active alumni  Yana Ustymenko '16 and Myroslava Yarkova '16 organized Halloween party for children from Kherson and small surrounding villages to teach them about the holiday and how it is celebrated in the U.S. The event took place in Kherson Window on America Center on October 30 and 55 adorable children in costume attended the event.
The Halloween celebration had three parts,
Alumni held a getting to know you event where the children said their names and their favorite cartoon or favorite cartoon character.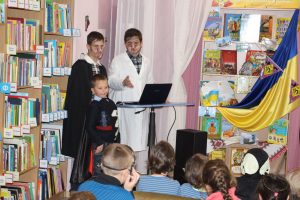 Next the children took part in a Halloween quiz with puzzles."I was very surprised that the children knew so much about the history of Halloween and when it was first celebrated" says Yana Ustymenko'16.  They seemed to be very interested and asked a lot of questions about carving pumpkins and trick or treating in the USA.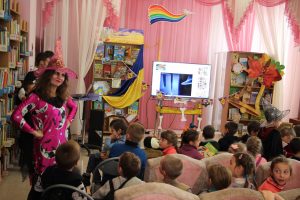 Afterwards, Myroslava Yarkova '16 and Yana Ustymenko '16 played several games with kids. They were dancing and trying to solve the tasks prepared by alumni.
Next up – the children tried mysterious snacks that FLEX alumni cooked and decorated especially for them, including cheese eyeballs and edible broomsticks!
At the end of the event the happy children and their parents asked for more of the same!  "Can we meet again soon? I want to learn English with you by playing?" – asked 12-year old Artem from a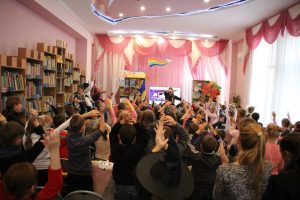 small village of Kamenka.  This feedback inspired alumni to work with these children again and organize more of these fun celebrations. "Conducting this holiday event made me so joyful, because I love working with kids. I can never express how happy I am when I see their smiles!" says Myroslava Yarkova'16. "It was my first experience working with a big group of little kids, so it was interesting and challenging at the same time, though I would do it again for sure", says Borys Lesyk'16.