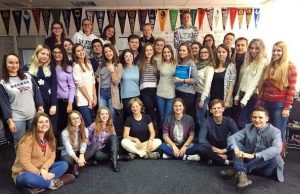 On October 15, 31 volunteer City Representatives from across Ukraine attended a two-day training workshop in Kyiv.  City representatives are FLEX alumni program volunteers interested in taking on a leadership role in his or her community and work directly with the FLEX Alumni Coordinator in his or her region to create plans, hold activities, and execute programming to meet the goals of the FLEX Alumni program.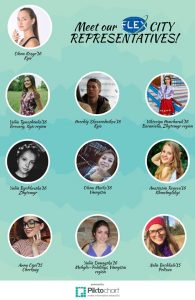 FLEX Program Officer in Ukraine Anna Khandros together with the four Ukrainian FLEX Alumni Coordinators organized the event to train the 2016-2017 City Representatives in Ukraine and to  empower young and motivated FLEX alumni with tools and knowledge to bring their community development ideas to life.  Different generations of FLEX alumni with different experiences and backgrounds were all united by one purpose –to  learn how each of them can make their local communities better!
"You all are so amazing – you truly have the ability to change people's lives, and during these twp days organizers will work to give you all the needed tools to help you become change makers in your community," – started off the workshop with words from one of FLEX Alumni Coordinators. Despite the short amount of time, FLEX City Representatives managed to cover a variety of topics, including the benefits of social media for event promotion, learned about Google Tools and their advantages, shared the ideas for the future projects, and discussed best practices and ways to improve on them – and that's only the first day of the conference!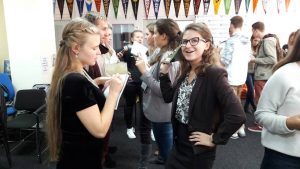 The second day was filled with session on fundraising and project management and design.  Alumni also brainstormed project ideas and developed a plan for the year.  The workshop was a truly a useful and inspirational event for both participants and organizers. And the FLEX year has just started…!
Report by FLEX Alumni Coordinator for Western Ukraine Roman Polishchuk and FLEX Alumni City Representative in Lviv, Ukraine Yuliana Pavlyk.