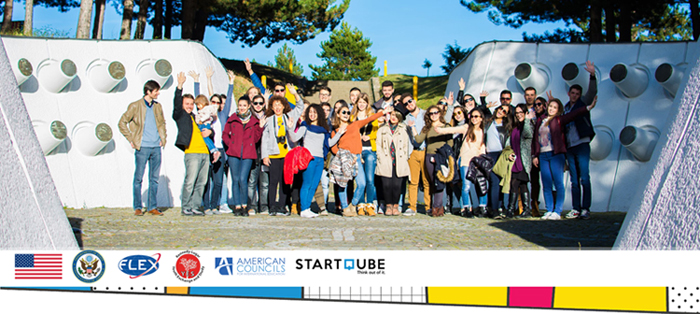 From October 12-16, 34 FLEX and YES alumni from Southeast Europe representing seven countries and seven program generations gathered in Krushevo, Macedonia, for the StartQube Social Entrepreneurship Workshop. The StartQube program was developed by Startup Zone, a Macedonia-based team who are themselves young entrepreneurs. This program was funded by the FLEX and YES programs, together with grants from the U.S. Embassies in Bulgaria, Kosovo, and Macedonia, and implemented by American Councils for International Education.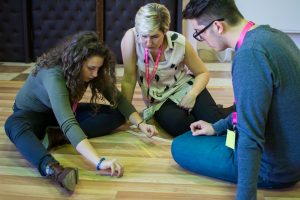 Guided by experienced mentors and working in mixed international groups of two to three, alumni from Albania, Bosnia and Herzegovina, Bulgaria, Kosovo, Macedonia, Montenegro, and Serbia learned how to take an entrepreneurial approach to addressing community needs as they developed socially-oriented business ideas step by step. Working closely with teammates representing diverse backgrounds and perspectives sparked creativity and pushed participants to achieve more than they had thought possible. "I learned how to adjust to working in a team of people that don't necessarily have the same goals [or] ideas," one participant reflected. Another described becoming "more open to others' ideas and more flexible" through the experience.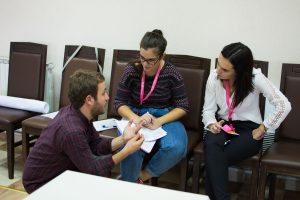 The mentoring team included Andrej Hanzir (Croatia), Lead Project Manager at COCI and Founder and Conference Director of LEAP Summit; Armin Konjalic (Bosnia and Herzegovina), Regional Director of EastWestDigital; Laurat Raca (Kosovo), By-Youth-for-Youth Coordinator at UNICEF Innovations Lab; and Liudmil Vassev (Bulgaria), Co-founder of BBU Foundation and COO of BBU Startup School. "The different mentors each had different views and approaches that really helped broaden my thinking and identify risks," one participant explained.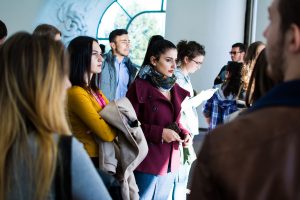 The workshop's 14 sessions each included a lecture or discussion introducing a key concept, followed by small group activities that challenged participants to apply the concept, building towards preparation for a final pitch of their idea. Supplementing these sessions were visits to local businesses. Through the stories of Macedonia's last barrel maker, a charismatic athlete-turned-restauranteur, the owner of a tiny sweetshop famous for its 100-year-old recipe for Turkish delight, and the manager of the hotel that hosted the event, participants gained invaluable insight into what it takes for a business to distinguish itself and succeed.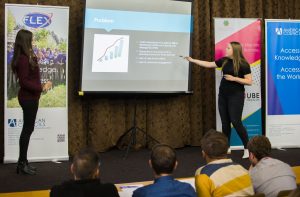 The event culminated in each team pitching their business idea to a panel of judges representing potential investors, which included the program mentors, representatives from American Councils and Startup Zone, and the manager of the workshop venue, Hotel Montana Palace. First, second, and third place honors went to the teams with the most well-developed and community-oriented ideas. The winning idea came from Kejsi Kurani (YES Albania '16), Viktoriya Hakhamaneshiyan (YES Bulgaria '15), and Klaudija Abat (FLEX Montenegro '16), who proposed providing a range of parenting classes to the general public and using profits to subsidize free courses for parents from disadvantaged groups. Winners chose from six prizes that included free entrance to future startup-oriented events and access to or consultations with prestigious mentors in the field. "I had absolutely zero knowledge of business and entrepreneurship," admitted one participant after completing the final pitch. "Now, I'm confident that I fully understand the concept." Another participant reflected: "I am super happy with our final pitch. There were a lot of considerations and negotiating among the group members to define and agree… [We] learned how to present it all in three minutes, which seemed impossible at first!"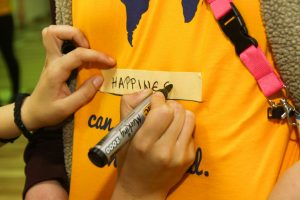 On the first night of the event, participants received t-shirts that read, "_____ can change the world." They were then invited to fill in the blank based on their current perspectives. Answers included "happiness," "love," and "humanity." On the last day of the event, participants were again invited to fill in the blank.  Some participants' answers stayed the same, while others changed to words like "unity," "working together," "I," or the name of their team. Reflecting on the most important lesson they had gained, one participant wrote: "the motivation to never give up—not just in a start-up idea, but also in life in general." Many participants echoed this sentiment, sharing that this experience taught them to see risks as opportunities and failures as key to success.
By the end of the workshop, 100% of alumni asserted that they had made friends from other countries and built a foundation for future regional collaboration. The program will continue with post-workshop grants of up to $250 per participant.