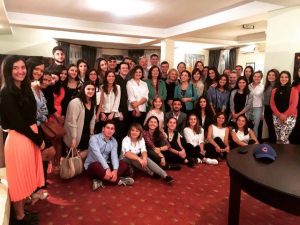 Recently returned FLEX alumni enjoyed a special treat on September 19, when the U.S. Ambassador to Georgia Ian C. Kelly and his wife Francesca Kelly invited 45 newly returned 45 FLEX Alumni to their residence for a Barbecue.  During the event Ambassador Kelly and Public Affairs Officer Courtney Austrian spoke to participants about the importance of exchange programs, highlighting the 20-plus years of citizen diplomacy success between the U.S. and Georgia through the FLEX program.  Ambassador Kelly shared his personal experiences of being a participant of two exchange programs and later his involvement with FLEX program through his service at the U.S. Embassy in Russia.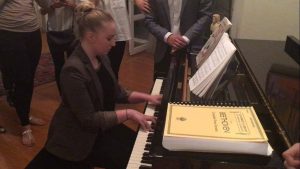 Alumni met and talked to U.S. Embassy representatives.  They shared highlights of their exchange year and talked about the impact that FLEX had on their lives.  Alumni also discussed their project ideas as U.S. Embassy representatives shared information about Alumni Grant opportunities.
At the end of the reception FLEX alumni Tamar Tchanturia '16 and Enver Kezheradze '16 played the piano at the Ambassador's residence while the rest of the alumni got a last-minute selfie in with Ambassador Kelly.
The FLEX program thanks the U.S. Embassy in Tbilisi for their continued support of the FLEX and FLEX Alumni programs.