'Whether you are a cosmopolitan CEO or an energetic parent, don't lose touch with the FLEX community and keep up the FLEX spirit! Don't be shy to offer and receive help from each other. Our network is strong and it will continue to grow in the years to come,' shares Zhibek with the FLEX alumni.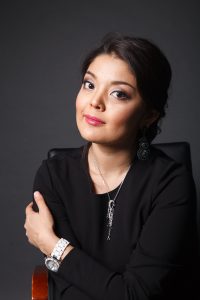 Zhibek Karamanova '03
Almaty, Kazakhstan / Troy, Illinois
Education: LLB in International Law from Kazakh Humanitarian Law University, LLM in International Business Law from Queen Mary University, University of London
Many great ideas are born after long days of research, but others hit us unexpectedly, inspired by fun and relaxing experiences, which we embarked on to get away from work. When in 2015 a successful lawyer and the founder of KEREMET Holding consultancy Zhibek Karamanova took a one-day art course in Kazakhstan's cultural capital Almaty, she wanted just that – to forget about her busy schedule and to dive into art. She didn't expect that a creative revolutionary project would come out of it.
'During the class I painted a copy of a famous painting guided by a professional artist. I really enjoyed meeting my teacher, so afterwards I started looking for paintings produced by young Kazakh artists,' shares Zhibek.  To her surprise, there wasn't much modern art around. Since opportunities for Kazakh artists are scarce, she found that most had left the field in search of other professions and only a lucky few managed to get jobs as graphic designers and illustrators.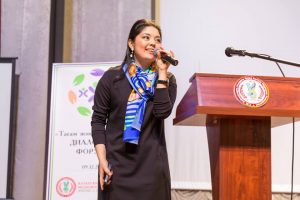 'It got me thinking. Why are there are so many TV programs aiming to discover young musicians and none made for artists? There's even a stereotype that an artist needs to be poor. But poverty doesn't inspire creativity – it, on the contrary, ruins it. Artists, like everyone else, need to eat, feed their children and pay the bills,' says Zhibek. She decided to create opportunities for artists, herself.
After conducting research she realized that apart from a handful of art galleries in Almaty there weren't many place in the country to show or sell modern art. 'Despite so many talented contemporary artists, the art market wasn't developing fast enough,' notes Zhibek. That's why her first step was to set up the KEREMET Art project as part of KEREMET Holding.
Next she began to prepare the very first International Art Business Conference for Central Asia.  The conference on the topic 'Art as an Asset' will take place in Almaty on September 9, bringing together a range of experts from around the world – artists, representatives of Sotheby's and Christie's Auction Houses, curators of corporate collections, art collectors, gallery managers, and the general public.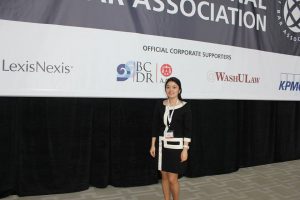 Over the course of the conference, experts will discuss the initiation of draft laws on philanthropy and advise why it is necessary to invest into art. 'Many aspects aren't mentioned in the law and it prevents the art market from developing. Even though we've been thinking about it for over 20 years, there's still no proper legal framework,' notes the alumna.
At the moment Zhibek also leads the legal department of investment company Visor Holding and is developing her own brand management and legal consultancy KEREMET Holding.  She is organizing the conference and is financing it herself too.  'I have spent all of my savings on this conference and I'm expecting some great results. Of course it is risky and a bit scary, but I haven't jumped into the conference with a pair of pink glasses on,' says Zhibek. So far she has already received the support of the two main art museums in the country and from the Ministry of Culture and Sports of Kazakhstan.
Zhibek is very interested in the modern art of other Central Asian countries too. 'Central Asia is home to so many ethnicities and this cultural diversity inspires fascinating art. I would like to start with Kazakhstan and then branch out to neighboring countries,' Zhibek says. Among her immediate plans are setting up the first school of art collectors in Kazakhstan, conducting art competitions among students, and promoting Kazakh artists' work in the country and abroad.
Besides juggling work for two companies and developing conference, Zhibek is running two other enterprises, DiningSmart and Foodystan.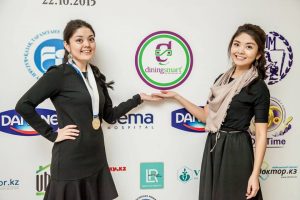 DiningSmart is a community and a platform dedicated to raising awareness about healthy eating. The range of its free and paid services is diverse, including a Club of Healthy Living, the Club of Socially Responsible Enterprises, and an annual Dialogue Forum. The aim of the Club of Socially Responsible Enterprises is to encourage restaurants to publish nutritional data of every meal in their menus.  'At the moment many restaurants are worried that by publishing this data they'll scare off customers. I think honesty is attractive and it will help people to make healthier choices,' Zhibek says. Articles about DiningSmart can be found here and here.
Her other project Foodystan is a free networking and advertisement portal for food producers and suppliers, grocery stores and restaurants. 'This service gives local farmers an opportunity to advertise their produce on the website without a middleman. In fact anyone can now look for partnerships and clients without even leaving the house,' says Zhibek.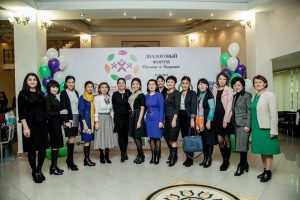 Having so many 'extracurricular activities' on her plate, Zhibek is planning to soon go freelance. This will allow her to dedicate all her time to developing her own initiatives across the borders. She believes that the FLEX year has contributed to creating her global prospective.  'My exchange year has inspired me to learn more about other cultures and global markets.  I received my Master's in the UK and later participated in Global Village for Future Leaders of Business and Industry. These opportunities contribute to why I am now working internationally. The FLEX program gave me skills and a great network and it's as relevant in my life now as it was a decade ago,' highlights the alumna.
Article written by Tatyana Movshevich