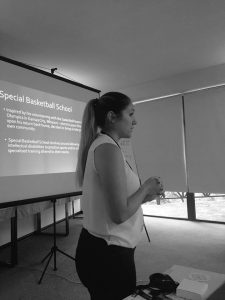 August 18-21 marked the dates of the annual FLEX and YES Alumni Coordinator training workshop, where 20 Alumni Coordinators representing 16 counties were introduced to the Alumni Coordinator position.  Participants learned about American Councils, the FLEX and YES programs, the programs goals, and the Alumni Coordinator position and took part in training sessions aimed to develop skills they will need to succeed in the job.
Alumni Coordinators are the glue that brings alumni communities together, connecting the tens, hundreds, and at times thousands of alumni in their regions and countries by offering alumni opportunities for personal and professional development through alumni activities.  The annual training, which took place this year in Tbilisi, Georgia, aimed to build on the skills developed by the nine returning Alumni Coordinators, while preparing the 11 new Alumni Coordinators for the position.  Alumni Coordinators from five YES and 11 FLEX countries were in attendance.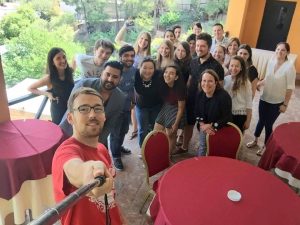 ACs attended sessions led by FLEX and YES Alumni program staff, former Alumni Coordinators, and representatives of the U.S. Embassy in Tbilisi, Georgia.  All participants of the training shared best practices and returning Coordinators led full sessions to share their experience and expertise with their fellow ACs. This year, staff piloted a peer mentoring program, connecting a returning Alumni Coordinator with a new Coordinator.  During breaks and group work, the peer mentor pairs worked together on creating an annual plan, worked on examples of monthly reports and monthly budgets, and evaluated grants together.  The peers teaching peers approach opens the door for greater regional collaboration and the year-long sharing of best practices from country to country and program to program.  This program also encouraged experienced Alumni Coordinators to share the tricks of the trade, including how to work effectively in a remote office and how to work effectively with the senior alumni community.
Most ACs find that alumni in their communities are interested in taking on leadership roles.  In order to meet the needs of their alumni, Alumni Coordinators shared best practices for hiring, training, and working effectively with City Representatives.  ACs also took part in sessions to build confidence and ideas to work effectively with local partners, with alumni who live outside of the country, with the U.S. Embassy in their country, and with senior alumni. The ACs received training on effective social media practices, utilizing the workshop hashtags, #ACACs2016, #FLEXAlumni, and #YESAlumni.  Finally, the ACs, new and returning, provided ideas and suggestions for the alumni programs development.  ACs shared ideas for FLEX 25th and YES 15th anniversary celebrations, brainstormed social media campaigns for the 2016-2017 program year, and shared feedback for an all-alumni survey.  The Alumni Coordinators brought ideas and initiatives to build on the success of the programs that they love.
The FLEX and YES Alumni Coordinator training workshop is made possible with the support of the U.S. Department of State Bureau of Educational and Cultural Affairs.