Summer Camp in Azerbaijan
Ulviyya Akbarova '15 (Sheki, Azerbaijan)
Location:  Sheki, Azerbaijan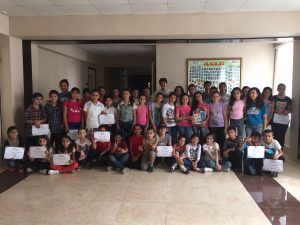 Ulviyya Akbarova '15 implemented an American-style summer camp for 55, 7-10th graders in Sheki, Azerbaijan on July 24-29.  Together with a team of FLEX alumni, Ulviyya taught the students life and professional skills in a fun, safe setting.
The first day of the camp was dedicated to American culture. After getting to know each other and after developing the camp rules, the alumni team of Ulviyya Akbarova '15, Fatima Huseynli '13, Arif Amirov '15, and Murad Baghirov '15 (all alumni originally from Sheki!) shared their FLEX exchange experience with participants.  Alumni talked about their life in America, showed the participants pictures of their host families, school friends, holiday vacations, and sites they saw in America.  Participants were excited to know more about the real U.S. and asked questions about how Americans live.  Alumni also shared information about how to apply for U.S. Government-sponsored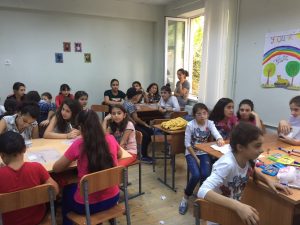 exchange programs like FLEX.
Subsequent days of the workshop offered participants trainings to help them develop personally and professionally.  Alumni held sessions on health and nutrition, financial management, protecting the environment, and time management.  Throughout the entire event, alumni taught participants English and shared with participants aspects of American culture that they learned on their exchange.