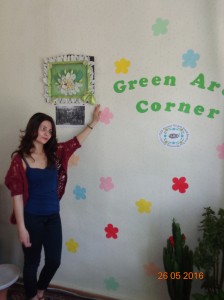 Project Organizer: Gayane Mkrtchyan '05 Event Location: Goris, Armenia $ 228 in FLEX Alumni Grant Funding $ 495 cost share from: Goris preschool № 1  
'Even though inclusive education has been implemented in Armenia for several years now, in reality students with disabilities are often excluded from social life, lack activities to do or even mistreated by their peers. As a result parents rarely send their children with disabilities to public schools,' says Gayane Mkrtchyan '05.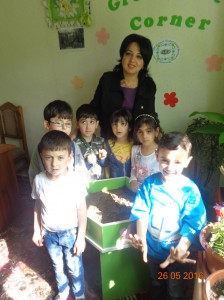 To create an atmosphere of tolerance and mutual help among students and to encourage their creativity in May 2016 she set up a Green Art Corner in Goris preschool № 1. The school is attended by 150 students, including six children with disabilities, and the art corner aims to engage students from regular classrooms in the art therapy projects for students with disabilities. The FLEX alumna turned an empty class into a unique artistic space with sand tables, flower pots and art supplies. There the students will paint, build sand sculptures and look after the plants. The art therapy also aims to help the students with disabilities develop their motor skills.
'Every human being is imperfect and needs communication, love and support. Social inclusion means benefiting from each other's imperfection and beauty,' says Gayane.
The art corner is the first inclusive project in the town and the FLEX alumna hopes that other initiatives will come out of it.