Project Organizer: Kaisar Sultan '15 Event Location: Aktobe, Kazakhstan $200 in FLEX Alumni GYSD Matching Grant Funding $200 cost share from: the American Corner in Aktobe  
On April 16-17, Kaisar Sultan '15 teamed up with Gulden Kaliyeva '15 and Gaukhar Tuletova '15 to conduct a two-day educational and leadership training 'The World of Possibilities' for 26 young people in Aktobe, Kazakhstan. The project partner was the American Corner in Aktobe, which hosted the event and provided equipment for free.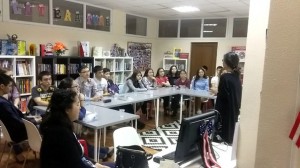 On the first day organizers introduced participants to the FLEX program and GYSD and highlighting the values of international youth exchange and community service. After a coffee break the students came up with ideas of their future GYSD projects in groups. The next day a clean-up near a river was organized followed by a picnic and outdoor games.
'People who live near the river were grateful to the volunteers for this event. During the clean up, participants got to know each other well and showed dedication to hold other joint community service projects in summer,' says Kaisar.