Project Organizer: Ainur Serikova '13 Event Location: Petropavlovsk, Kazakhstan $180 in FLEX Alumni GYSD Matching Grant Funding $180 cost share from: the Shakshakbaev Boarding School for Children with Disabilities in Petropavlovsk  
To promote disability rights and inclusive education, Ainur Serikova '13 organized a one-day workshop for 20 children with disabilities at the Shakshakbaev Boarding School. The FLEX alumna who is also the FLEX Alumni City Representative in Petropavlovsk came up with this idea after she had volunteered at events for children with disabilities at the English Club in her university and at the American Corner in Petropavlovsk.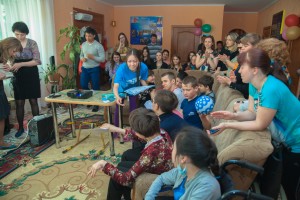 'At the American Corner, children with disabilities are included in all activities and it gives them confidence in their future opportunities. There, they are not treated different from all of the other kids. Through this project I wanted to motivate children with disabilities in Petropavlovsk to become successful and active members of society,' says Ainur.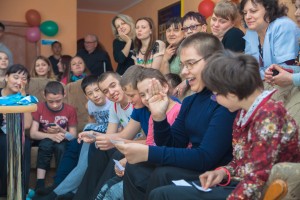 Children took part in a range of activities, including a quiz, board games, and a concert. The workshop was attended by a famous Paralympic athlete Yevgeniy Tetyukhin who shared his success story with everyone.  At the end of the event the participants were presented with certificates and donated gifts, such as toys, books and dictionaries and had pizza.
Ainur plans to return to the boarding house to organize a picnic for all the children in May.