Project Organizer: Gulnaz Tabynbayeva '14 Event Location: Astana, Kazakhstan $500 in FLEX Alumni GYSD Matching Grant Funding $7440 cost share from: the Nomad Debate Club, Nazarbayev University, Bank of Astana, and Astana Medical University
On April 1-3, Gulnaz Tabynbayeva '14 joined forces with 45 volunteers and organizers including three FLEX alumni to conduct an international debate tournament in Astana, Kazakhstan. The goals of the event were to enhance critical thinking and freedom of expression and to promote the values of human rights and equality among young people in Central Asia. The Nomad Debate Club facilitated the event, Nazarbayev University provided the venue, while the Bank of Astana and Astana Medical University offered financial support.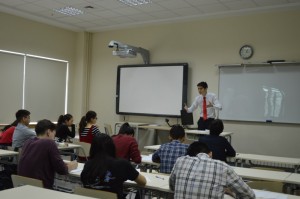 Over the course of the tournament 112 participants from seven regions of Kazakhstan and from Kyrgyzstan attended training and briefing sessions and held debates on a wide range of global issues. The debates were guided and judged by international and local guest adjudicators, including Robert Ustyan and Shamkhal Murtazaliyev. The spirit of friendly competition created an exciting atmosphere throughout the event.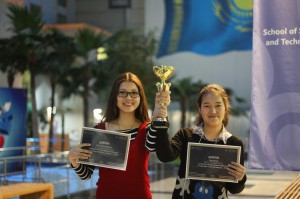 'With the help of the international experts, participants developed their debating skills and gained a deeper understanding of many global issues. That's why the feedback from the students was very positive,' says Gulnaz. More photos from the tournament are available here.
This summer the FLEX alumna plans to implement a one-week debate training called 'The Nazarbayev University Debate Academy' where young people can improve their debating skills further.