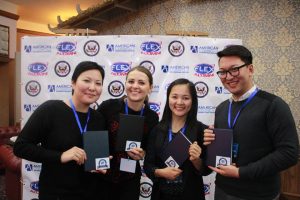 On March 18, at the Golden Dragon Restaurant 29 senior FLEX alumni attended the first-ever Senior Alumni Reunion in Kyrgyzstan. Event brought together alumni who participated in FLEX during the first 15 years of the program.  American Councils Country Director in Bishkek Rebecca Gordon and William Romine, U.S. Embassy Public Affairs Officer opened the event.  Alumni Coordinator Asel Matieva '13 and FLEX Program specialist Irina Zaplatina also welcomed alumni.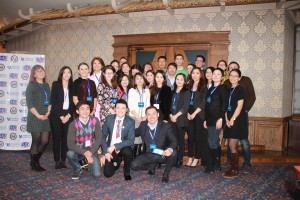 The goal of the event was to reconnect FLEX alumni from different years to network and share experiences. Alumni of different years led events at the reunion to encourage alumni to meet and talk.  Valentina Khomenko '11 and Nasiba Nurmatova '11, former Alumni Coordinators, held presentation about current alumni activities and success stories and shared program statistics.  Maksat Tynaev '99 and Asel Matieva '13, also leaders of the FLEX alumni community of Kyrgyzstan, held a quiz game where alumni were tested how well they remember information connected to their alumni life and FLEX year. Throughout the event alumni enjoyed looking at pictures from past program years and screened a video created especially for the event.  Alumni also shared their business cards and networked throughout the event.
The evening ended with a cake to commemorate the 23 years of the FLEX  program in Kyrgyzstan and a dance with songs from the 90s and 2000s.