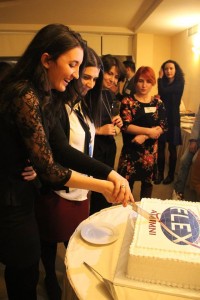 On December 18, 88 senior FLEX alumni from the program years of 1994-2005 attended a reunion at Betsy's Hotel in Tbilisi, Georgia.  Country Director for American Councils in Georgia Timothy Blauvelt and U.S. Embassy Public Affairs Officer Courtney Austrian spoke at the opening of the event and passed the stage to Vice Minister of Economy and Sustainable Development of Georgia Ketevan Bochorishvili '98 who welcomed alumni.  Ketevan, a former Alumni Coordinator and recipient of the 2015 American Councils 40th Anniversary Distinguished Alumni Award, shared interesting statistics about the FLEX program.  Sophie Panjikidze '01 board member of the U.S. Government Exchange Program Alumni Association (EPAG) spoke about the importance of the alumni network.  Active alumnae Tamar Kvaratskhelia '94 and former Alumni Coordinator Lana Chkhartishvili '04 led networking activities to foster an atmosphere where alumni met their fellow alumni, talked about their professional fields, and learned more about past and current alumni activities in Georgia.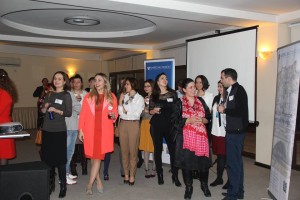 Current Alumni Coordinator Anuka Chonishvili '12 led the business card lottery, where alumni dropped in their business cards for the chance to receive prizes, such as 2016 FLEX calendar planners or gift prizes from event partner Dasta Records Management.  During the event a video was screened that was created for the reunion.
During registration alumni updated their contact information and marked their interest in different events organized by the FLEX Alumni program in Georgia.  American Councils would like to thank Betsy's Hotel and Dasta Records Management for their generous support of the event. Pictures from the reunion can be found at the FLEX Alumni Georgia page on Facebook or by clicking here.